Princess Ship Resumes Cruising from L.A. Port
Monday, September 27, 2021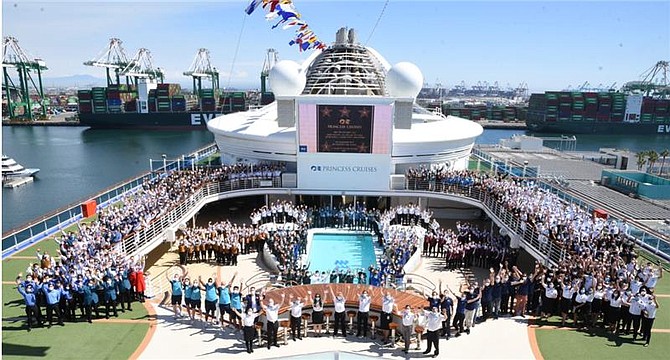 The longest-serving vessel of the Santa Clarita-based Princess Cruises fleet on Friday became the first ship to resume service from the Port of Los Angeles since passenger cruises shut down early last year. 
"It is a pride point for us that Grand Princess is returning to service in our hometown port. Our crew members are eager to welcome guests back on board as we continue resuming operations in the United States," Jan Swartz, Princess Cruises president, said in a statement. "We are grateful to the Port of Los Angeles for their support during the pause and are excited to be working together once again."
The Grand Princess has added on-board features and safety protocols since its last voyage. It was docked in March of 2020 due to an outbreak of the novel coronavirus that was linked to seven confirmed deaths. The entire cruise line, which is part of Carnival Corp., now has vaccination and testing requirements for passengers and crew prior to embarking, staggered boarding times and touchless services on board. 
The ship's return to service was marked with a ribbon-cutting ceremony prior to its departure on a five-day Cabo San Lucas voyage. The trip is the first of 11 sailings from the port of Los Angeles planned for the rest of this year. 
"Princess Cruises is a valued longtime partner, and we are excited to welcome Grand Princess back to Los Angeles for the first passenger cruise since March 2020," Port Executive Director Gene Seroka said in a statement. "We are a full-service port – with cargo, marina, cruise and visitor-serving businesses – and every cruise ship call generates more than $1 million dollars in local economic activity. That's especially important to the city and Port of Los Angeles right now."
Shares for Carnival Corp. closed up 94 cents, or 3.7 percent, to $26.38 a share on Monday, a day when the Dow Jones industrial average was up 0.21 percent.