Apartment Complex Could Replace Auto Shop in Toluca Lake
Thursday, June 3, 2021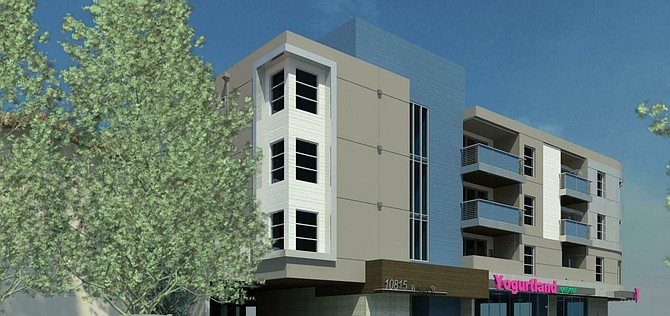 A new four-story apartment complex has been proposed for a Toluca Lake site that currently hosts an auto repair shop.

Dubbed Whipple Gardens, the multifamily development – located at 4305 N. Lankershim Blvd. – would be a complex with 27 one- and two-bedroom apartments, 3,283 square feet of ground-floor storefront space and two levels of subterranean parking that can accommodate 56 cars.

According to city of Los Angeles records, applicant Zareh & Lisa Krumian Family Trust has requested density bonus incentives to create a bigger building that will include three low-income apartments in exchange.

The local market has quite a few apartments emerging in the pipeline. In neighboring North Hollywood, a pair of boutique multifamily projects are firming up on Blix Street: A 21-unit, four-story complex with parking for 17 vehicles is going to replace a vacant single-family home at 10804-10806 W. Blix St. Developed by IM Home and designed by Bijan Azadi & Associates, the project is currently under construction. 
Also, an 18-apartment infill project has just been proposed by Garen Boyajian of Blix Equities to be designed by Bittoni Architects at 10912 W. Blix St.