Dole Foods Launches 'Malnutrition Labels' Campaign
Friday, February 5, 2021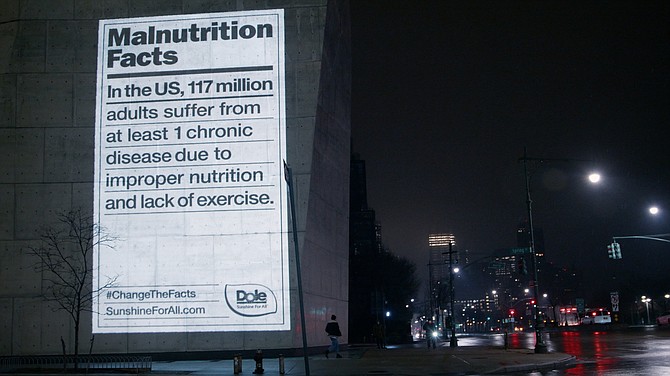 Dole Packaged Foods has launched a public awareness campaign about food insecurity called "Malnutrition Labels."

The Westlake Village food manufacturer described the campaign as "an experiential initiative designed to spark conversation and action" about food issues.

The campaign uses graphics that look similar to the nutrition labels on packaged foods, except they have facts about malnutrition. The label images are projected on buildings or other large public surfaces in Los Angeles, New York and Baltimore.

"For a company like ours, where you can literally 'eat' our purpose, it is important to champion a world where access to good nutrition is a human right for all," Rupen Desai, global chief marketing officer at Dole, said in a statement. "Malnutrition labels is our way of raising awareness and calling for systemic change to address nutrition inequality."

The campaign will include out-of-home, paid digital, content and social media elements. It was conceived in partnership with advertising agency DAVID Madrid and Miami, and implemented with support from agency partners including Spark Foundry, High Wide & Handsome, National Experiential and Peppercomm.