Disney Selects New Chief Executive as Iger Steps Down
Tuesday, February 25, 2020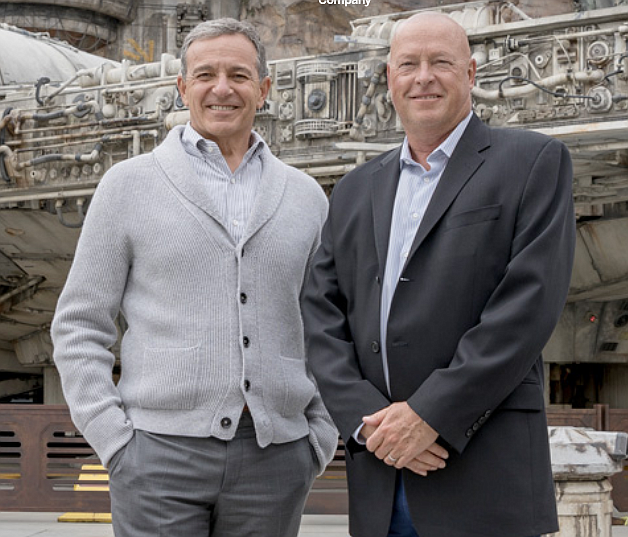 The Walt Disney Co. board of directors on Tuesday named Bob Chapek as the new chief executive, effective immediately.
Chapek, who had been chairman of Disney Parks, Experiences and Products, replaces Robert Iger who becomes executive chairman through 2021 and will direct the creative efforts of the Burbank entertainment and media giant.
With the successful launch of Disney's streaming services, including Disney+ in November, and the integration of 21st Century Fox, it was an optimal time to transition to a new chief executive, Iger said.
"I have the utmost confidence in Bob and look forward to working closely with him over the next 22 months as he assumes this new role and delves deeper into Disney's multifaceted global businesses and operations, while I continue to focus on the company's creative endeavors," Iger said in a statement.
Chapek is the seventh chief executive in Disney's nearly 100-year history. Prior to joining the company in 1993, Chapek worked in brand management at H.J. Heinz Co. and in advertising at J. Walter Thompson Co.
He shares Iger's commitment to creative excellence, technological innovation and international expansion, Chapek said.
"Everything we have achieved thus far serves as a solid foundation for further creative storytelling, bold innovation and thoughtful risk-taking," Chapek said in a statement.
As the head of the parks and products division of Disney, Chapek oversaw the largest of the company's business units which includes six resort destinations in the United States, Europe and Asia; a top-rated cruise line; a popular vacation ownership program; and an award-winning guided family adventure business. It also had responsibility for Disney's global consumer products operations.
A replacement for Chapek at Parks, Experiences and Products will be named at a later date.
Iger has been head of Disney since September 2005. During his tenure, Disney has been on a strong growth trajectory. The company got in early on distributing content via Apple Inc.'s iTunes; bought Pixar Animation Studios, Marvel Entertainment and LucasFilm Ltd.; built a theme park in China; and saw the share price hit $100 for the first time ever.
Iger originally announced he would retire in March 2015. That was later extended to June 2016 to coincide with when he would step down as board chairman. In October 2014, he extended his contract an additional two years, through 2018, as the Disney board sought to keep Iger in place based on the company's financial and creative success. The board last extended his contract in 2017 to take him as Disney head until July 2019.
But the acquisition of Fox for $71 billion, which was announced in December 2017 and closed last year, kept Iger on the job.
Shares of Disney (DIS) closed down $4.82 or about 3.6 percent, to $128.19 on the New York Stock Exchange.