VICA Adds Businesses to Hall of Fame
Friday, June 21, 2019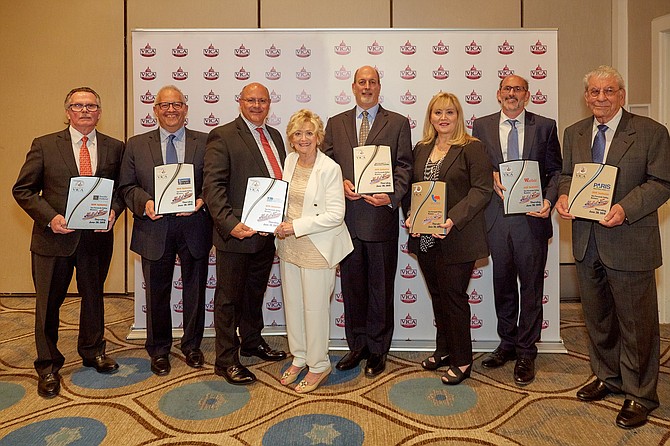 The Valley Industry & Commerce Association inducted its newest members into the San Fernando Valley Business Hall of Fame on Thursday night.
The Van Nuys advocacy group picked seven businesses – one from each of its seven decades in existence – to honor in front of a crowd of about 300 people at the Sheraton Universal Hotel in Universal City.
The inductees at the 12th annual business hall of fame dinner were Los Angeles Department of Water & Power; Paris Industrial Parks; Aerojet Rocketdyne; Unibail-Rodamco-Westfield SE; Gaines & Stacey LLP; Pacific Federal LLC; and California Resources Corp.
"VICA is such an important part of the Valley," said speaker Tim Gaspar, chief executive of Gaspar Insurance Services. "VICA works to protect businesses from harmful legislation and ballot measures. ... But most importantly, VICA gives us all the opportunity to gather at events like these to see old friends and make new ones,"
With NBC4 weatherman Fritz Coleman as master of ceremonies, representatives from each of the companies came to the podium to receive a plaque.
Martin Adams, chief operating officer for the Department of Water & Power, said upon accepting the award that "it is a great honor to represent the 10,000 men and woman who bring you water and power every day of the year – every second of every minute of every day."
LADWP was one of the original members of VICA when the group was founded in 1949 as the Industrial Association of the San Fernando Valley. For the next 32 years, it provided administrative support to the group.
Aerojet Rocketdyne was recognized for its contributions to the U.S. space program. The rocket engine manufacturer helped put the Apollo astronauts on the moon and to fly in the Space Shuttle.
Mark Vetter, manager of business operations at the Chatsworth campus of the El Segundo-based parent company Aerojet Rocketdyne Holdings Inc., said its accomplishments could not have been done alone.
"That is one of the reasons we work with VICA and would like to thank them for our success as well," Vetter said.