Tarzana Corner to Host Creative Office Campus
Monday, February 4, 2019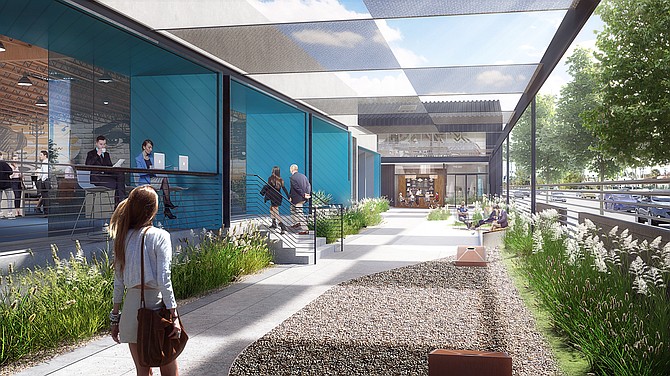 Cushman & Wakefield and Colliers International announced that 18362-18424 Oxnard St. in Tarzana is slated for redevelopment into a creative office campus with studio capabilities.
The new development is called Elevar and will feature an outdoor space called a "greenbelt," wifi-enabled patios and an artisanal cafe. The facilities will include above-standard power and data capabilities, high ceilings and a fitness center.
Alvarez & Marsal Capital Real Estate recently acquired the 4.3-acre site — which currently consists of four standalone flex and industrial buildings totaling 73,045 square feet — situated at the intersection of Oxnard Street and Reseda Boulevard. New construction will add another 20,000-plus square feet to the existing footprint, bringing the total project size to roughly 96,500 square feet.
Cushman & Wakefield's Rob Hooks, Katie Bernhisel and Dillon Moscone, in partnership with Colliers International's Kevin Fenenbock and Jacob Mumper, will serve as leasing agents for the project. Cushman & Wakefield announced the project Monday.
"This is a perfect canvas for the new owners to undertake a creative office experience, offering tenants an alternative to the more traditional office environments located in Encino, Tarzana, Sherman Oaks and Warner Center," said Fenenbock in a statement. "It also marks the necessary evolution of an industrial park that had outlived its useful purpose, a trend we are seeing throughout Southern California as tenants seek a more collaborative work environment."
After an overhaul of the existing buildings in May, construction of the new buildings will begin in June, a Cushman & Wakefield spokeperson told the Business Journal. Project managers are targeting an overall mid-November completion.
No price tag for the development has been disclosed.