GROWTH: APARTMENT SALES WILL REMAIN HOT THIS YEAR AS OTHER MARKETS BEGIN TO WARM UP.
Real Estate Brokerage Firms Predict Bright Spots For 2012
Monday, February 20, 2012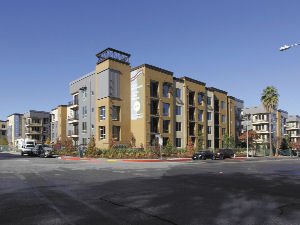 Buoyed by brokers who took down some of last year's largest deals, publically traded CBRE Group Inc. earned the top spot on the San Fernando Valley Business Journal's list for the total volume of deals in the greater Valley by dollar amount.

The company, which has offices in Universal City and Camarillo, was responsible for a total of $1.3 billion in total sales and lease volume last year in the greater Valley, a 52 percent jump from a year earlier.
The 45 brokers in the firm's L.A. North division were responsible for many large deals, including NBCUniversal's renewal and expansion of nearly 428,000 square feet at 10 Universal City Plaza — the tallest office tower in the San Fernando Valley — and Princess Cruises'15-year lease renewal at Valencia Town Center.
Natalie Bazarevitsch, who was recently appointed senior managing director of the L.A. North region for CBRE, said the firm's global reach and myriad services has helped it land the market's top clients. Bazarevitsch said the goal is to provide "local expertise worldwide."
Lee & Associates-LA North/Ventura Inc. was No. 2 on the Journal's list with $698 million in total leasing and sales volume, a 10 percent increase from 2010. The company has 55 area brokers and completed 745 transactions in the greater Valley last year, a 6.4 percent jump from 2010.
Rounding out the top five were Marcus & Millichap Real Estate Investment Services with $460 million, NAI Capital Inc. with $453 million and Beitler Commercial Realty Services with $320 million.
Marcus & Millichap, which only handles sales, had an impressive year. The company has 40 brokers in the greater Valley and closed 124 sales transactions in the Valley-area in 2011, a 6 percent rise from a year earlier. But for Marcus, the value of its deals shot up 87 percent compared with 2010 as the firm handled several mega-transactions including the sale of a 438-unit Warner Center apartment complex for nearly $133 million.
"There is money back in the marketplace," Regional Manager Adam Christofferson of Marcus & Millichap's Encino office said. "It's certainly not like 2005, 2006 or 2007, but it is a lot better than it was in 2009."
Christofferson said he sees continued improvement this year with more lenders and buyers entering the marketplace as the economy continues to slowly improve. He anticipates the number of deals closed in the marketplace to rise about 15 to 20 percent compared with last year. Apartments will still be the hottest ticket, but other markets should continue to improve — especially industrial, he said.
Encino-based NAI Capital has the most brokers in the greater Valley with 76. The firm saw the total value of sales and lease deals done in the region rise 34 percent to $453 million last year.
CEO Bob Scullin said NAI Capital expects to grow this year, helped by an improving market and C-III Capital Partners LLC's acquisition of NAI Global, of which NAI Capital is a member.
Because C-III serves as a special servicer on commercial loans, more business from foreclosed properties should make their way down to NAI Capital's 14 Southern California offices, Scullin said. Chairman Mike Zugsmith said the credit markets opened up last year, increasing NAI Capital's revenue. The firm's brokers completed 50 sales in the greater Valley-region last year and 453 leases, a 9 percent rise in the total number of transactions from 2010.
NAI Capital derived about 39 percent of its revenue from sales and about 61 percent from leasing, Zugsmith said. Revenue derived from sales plummeted to about 8 percent of total revenue during the worst of the recession, he said.
---
Download the 2012 REAL ESTATE BROKERAGE FIRMS list (pdf)
Download the 2012 SFV's LARGEST VALLEY PROPERTY MNGMT FIRMS and OFFICE SPACES lists (pdf)