LISTS: MAINSTAY CLAY LACY AVIATION TOPS LIST FOR FIXED-BASED OPERATORS SERVING REGION.
Valley Aviation Companies Expand Service Offerings
Monday, November 7, 2011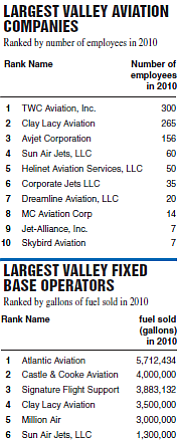 The charter business at Avjet Corp. in Burbank has been busy this year and Mark Lefever cannot explain why.
"The economy doesn't point to a reason," said Lefever, president of the charter and aircraft management firm based at Bob Hope Airport.
Avjet landed in the second spot in the Business Journal's Largest Valley Aviation Companies List. The list ranks the companies by the number of passengers served in 2010.
Avjet served 33,279 passengers, an increase of 12 percent from the 29,714 served in 2009.
Since the start of 2011, the demand for Avjet's charter service has outpaced the supply of aircraft, Lefever said. The company owns three jets and manages another 34 aircraft.
The star of the fleet is the Boeing Business Jet, one of less than a handful being used for charter in the U.S. That scarcity makes the plane popular to a mix of corporate users, individuals, heads of state and others, Lefever said.
"We are trying to add planes," Lefever said. "We have a lot of deals in the works to keep ahead of the demand."
Clay Lacy Aviation, the original charter and aircraft management firm at Van Nuys Airport topped the Largest Aviation Companies list and the Largest Fixed Base Operators list.
Clay Lacy has been a fixture at the Valley airfield since the 1950s and multiple aviation-related groups have honored him for his contributions to flying. Lacy, who started his company in 1968, is credited with bringing the first corporate jet to Van Nuys in the mid-1960s.
Clay Lacy Aviation served 49,000 passengers in 2010 and employs 265 workers. In addition to Van Nuys, the company also has operations in Denver, Seattle and West Palm Beach.
While there is the perception that private planes are used by the wealthy, for companies they are a business tool that give advantages to their users, said Brian Kirkdoffer, president of Clay Lacy Aviation.
"In a world economy you have to be mobile and see clients face to face," Kirkdoffer said.
Rounding out the top five of the Fixed Base Operators list are Sun Air Jets, Castle & Cooke Aviation Services, Million Air, and Signature Flight Support.
Sun Air, based at Camarillo Airport, employs 60 people to provide charter, aircraft management, maintenance, and hangar space leasing. The firm placed No. 6 on the Largest Aviation Companies List having served 2,500 passengers in 2010.
In January, Sun Air opened a new 21,000-square-foot hangar with 3,000 square feet of office space. In October, Sun Air announced it will begin leasing hangar space at Van Nuys Airport, a move that expands the company's presence beyond its Ventura County base.
In addition to Clay Lacy Aviation and Avjet, other firms in the top five for the Largest Aviation companies are TWC Aviation Inc., MC Aviation Corp., and Helinet Aviation Service LLC, the sole helicopter operator to make the list.
TWC increased the number of passengers served by 55 percent between 2009 and 2010, a reflection of its acquisition of ACM Aviation that added aircraft and airports in California and upstate New York.
---
Download the 2011 SFV's LARGEST VALLEY AVIATION COMPANIES list (pdf)