HEALTH: IPAD2, IPOD TOUCH WILL CONNECT DOCTORS WITH SKILLED NURSING CENTER RESIDENTS.
Vons Funds Medical Program Using Apple Devices
Monday, April 11, 2011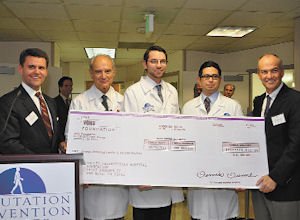 This is a regular feature on philanthropic activities by Valley-area businesspeople and companies.
A $20,000 donation from the Vons Foundation to Valley Presbyterian Hospital's Amputation Prevention Center will help develop the center's community pilot telemedicine program.
The donation was awarded to the center during its first-year anniversary celebration on March 23.
The telemedicine program will partner with Country Villa – a skilled-nursing facility owner, operator and manager – at its facilities in Van Nuys and North Hills. The pilot program will test off-site consultations for the Amputation Prevention Center using iPad 2 and iPod Touch devices.
"We believe this is the first program to use telemedicine to treat and manage (decubitus) ulcers in a skilled-nursing facility in the state of California and has the potential to transform healthcare delivery," said Michael Torgan, president of Country Villa.
Daymond Rice, director of governmental and public affairs for the Vons Foundation, said Vons realizes the importance of giving back to the community.
"Telemedicine will enable the center to reach those in need in distant places and we are proud to be a part of this initiative."
Studio Employees Build Homes
Warner Bros. Entertainment employees recently helped build homes for low-income, working families in Pacoima.
The company partnered with Habitat for Humanity San Fernando/Santa Clarita Valleys on Feb. 26 as part of its Impact giving program, which provides volunteer opportunities for employees.
About 60 of the studio's employees, friends and family members assisted with construction, digging and planting. Three families chosen as recipients of Habitat homes also attended the event.
Grocery Stores Help Disabled
Vons and Pavilions stores in the San Fernando Valley are raising money in April to help local residents who have disabilities.
Throughout the month-long campaign, customers will be given the option at every check-out counter to make contributions to Easter Seals Disability Services.
The donations will help the organization provide jobs training and employment opportunities, pre-school and after-school services, independent living options and services that help adults learn daily living and social skills.
Participating Vons stores include those in Canoga Park, Woodland Hills, Mission Hills, Tarzana, Reseda, Northridge and Granada Hills. Participating Pavilions stores include those in Sherman Oaks and West Hills.
In 2010, Vons raised more than $1 million in support of Easter Seals Southern California.
Credit Union Paints Center
Lockheed Federal Credit Union employees plan to give a Burbank-based nonprofit activity and daycare center a new look.
As part of the credit union's community project, Partner to Paint, 30 employees will volunteer on April 14 to paint the exterior of BCR's "a place to grow" facility. BCR provides day activities and extended daycare programs to children and adults with developmental disabilities.
"We appreciate the opportunity to assist in our community, and it's especially gratifying to benefit an organization that does such a remarkable job serving Burbank and the surrounding community," said Dave Styler, president and CEO of the Lockheed Federal Credit Union.
The project is also made possible through the support of Tim Tilton of T&T Improvements Painting Company, Dunn Edwards Paints and Santoro's Submarine Sandwiches.
The credit union offers a Volunteer-Time-Off program that gives each employee up to eight hours per year to volunteer during the work day.
Providence Donates to Non-Profits
Providence Health & Services donated more than $250,000 to 14 non-profit groups in the San Fernando and Santa Clarita valleys that serve individuals in need.
Some of those individuals served by the groups include the homeless, the uninsured in need of medical care, school children in low-income areas and others in need.
The chosen organizations include the following: Chrysalis, El Nido Family Centers, the Family Promise locations in both the San Fernando and Santa Clarita valleys, Family Service Agency of Burbank, Friends of the Family, Gentle Barn, Guardian Angel Catholic School, Guardian Angel School in Pacoima, Kids Community Dental Clinic, Plummer Elementary School, St. Didacus Schools in Sylmar, St. Ferdinand School in San Fernando, Santa Rosa School in San Fernando, Tarzana Treatment Center, Valley Care Community Consortium and Work of Angels.
The grants were presented on March 29 at Providence Tarzana Medical Center.
Funding came from the Mother Joseph Fund, which holds a portion of profits from the three Providence medical centers in the San Fernando Valley. In profitable months, each hospital donates 5 percent of its proceeds to the fund.
– Compiled by Jessica Vernabe