Mixed-Use Project With 42 Units Proposed in Van Nuys
Tuesday, January 12, 2021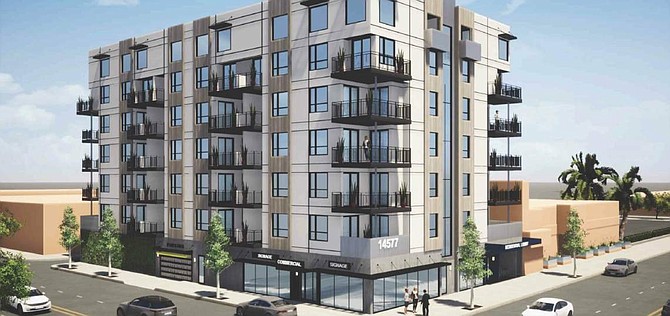 The owner of a Van Nuys quarter-acre parcel of land has proposed a mixed-use residential project, according to L.A. Department of City Planning records.
The property at 14557 Friar St., not far from the intersection of Van Nuys and Victory Boulevards, will host a new 33,338-square-foot development, a seven-story structure comprised of 42 studio, one- and two-bedroom dwellings. The apartments will be perched above 1,038 square feet of ground-floor retail. A semi-subterranean parking area will accommodate 42 cars. Building amenities will include a gym, recreation room and rooftop deck.
An existing single-story structure at the address would be razed. The property was bought for $1.27 million in 2014.
City records lists the applicant as Los Rubanenkos LLC while Los Angeles-based architecture firm Ketter & Associates is involved in the project's design. The owner has requested entitlements taking advantage of Transit Oriented Communities incentives, which would grant relief from zoning requirements for on-site open space and rear and side yard setbacks. In exchange for fulfilling these requests, the developer will create five low-income units.
Van Nuys has been the site of myriad residential developments of late, especially around the Van Nuys Airport corridor, where Weintraub Real Estate Group has proposed 150 units of mixed-use residential at 7650 Balboa Blvd. Another 124 units, housed in a five-story structure, has been proposed for 7644-7658 Van Nuys Blvd., alongside the Van Nuys Metrolink Station. Another 71 apartments are being built next to Van Nuys Civic Center.