Caruso Wins Approval to Build Apartments in Thousand Oaks
Friday, February 12, 2021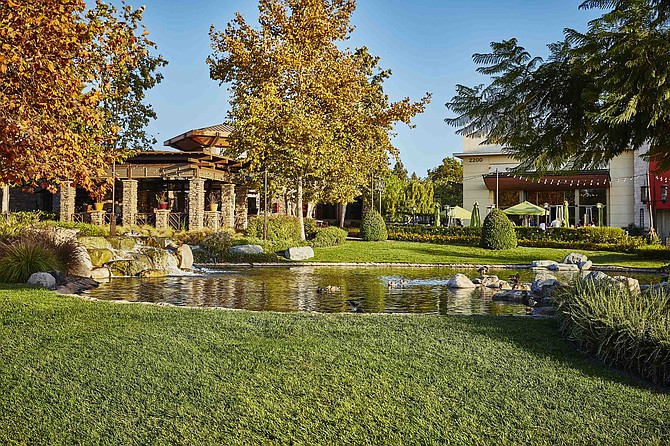 Caruso has received unanimous approval to rezone land behind its retail center The Lakes for a residential project.
The 5-0 vote by the Thousand Oaks City Council paves the way for Caruso to build 165 apartments behind the outdoor shopping mall, located at 2200 E. Thousand Oaks Blvd. Specifically, the City Council's Feb. 9 decision allows for a switch in land-use designation from commercial to commercial and residential, which caps the maximum density living units per acre at 30.
The apartments will replace a parking lot behind the shopping center.
The entrance and exit to the complex will be at The Lakes Drive and Conejo School Road while outdoor common spaces and walkways will be created at the site. Details such as the final total of apartments to be developed, units devoted to affordable housing, and building height have yet to be worked out, with Caruso in the early planning stages for the project.
The project's lineage traces back to a deal which Caruso made with the city of Thousand Oaks in 2004, when it signed a contract to lease the property from the city for free in years when the mall does not earn at least $2.1 million, or 12 percent of the $17.6 million that Caruso invested to build it.
Upon reaching this 12 percent threshold, the city would have received 20 percent of the cashflow. However, since The Lakes made its 2005 debut, the mall has not approached this figure and so the city has not gained any lease revenue. The retail center is currently less than 40 percent occupied, according to media reports.
For Caruso, the next step in the months ahead will be to submit a more detailed pre-application to the city of Thousand Oaks, which city staff will review, before a formal application is processed through the Planning Commission.
Based in Los Angeles, Caruso owns retail centers including The Americana at Brand in Glendale, The Commons at Calabasas and Encino Marketplace.