Encino Shopping Center Eyes 2021 Overhaul With New Anchors
Thursday, July 23, 2020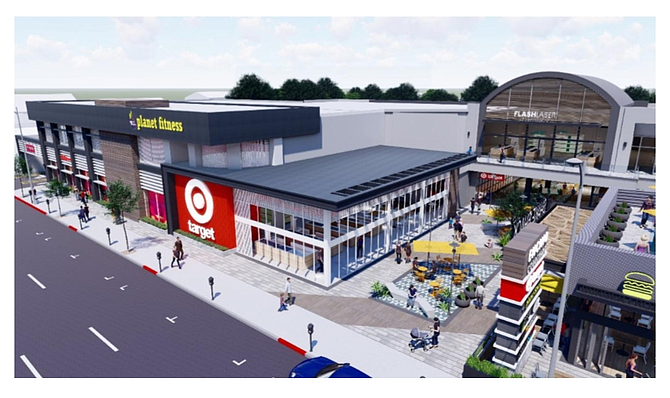 ShopCore Properties has announced the overhaul of an Encino mall underway soon to include Target and Planet Fitness as prime anchors with a tenant mix of fast-casual restaurants, national retailers and local services, according to the developer.
The existing Encino Courtyard at 17401 Ventura Blvd., where scenes from the 2005 comedy hit "The 40-Year-Old Virgin" were shot, will undergo a transformation that will see an array of new stores and restaurants in a more contemporary setting.
Target has already signed a long-term lease for nearly 50,000 square feet and Planet Fitness will assume 20,000 square feet. Other tenants coming to the 106,000-square-foot site will include The Kebab Shop, Shake Shack, Pressed Juicery and Blaze Pizza.
"Encino is an affluent, highly educated and established community, and we will be adding the relevant retail and dining experiences and services that they are missing," William Gervin, vice president of leasing for the Chicago-headquartered ShopCore, said in a statement.
Simultaneous with the incoming tenants is a redesign of the property, with modernized facades and a reconfigured courtyard.
The bulk of the new businesses will begin rolling out in an undetermined quarter of 2021. In the meantime, it will be business as usual for the current tenants at the site, including Butterfly Loft Salon and Spa, Petrock Hotel and Spa and Flashlaser Aesthetics, which will all remain open during the renovation process.
Also, current Encino Courtyard businesses Western Bagel and Hands to Hold Nail Salon will stay on as part of the new mall.
Other ShopCore properties in the North Los Angeles region include Plaza Del Sol in Burbank, Plaza Pacoima in Pacoima, El Paseo Simi in Simi Valley and One Colorado in Pasadena.