Construction Complete at L'Oreal Offices in Encino
Tuesday, July 7, 2020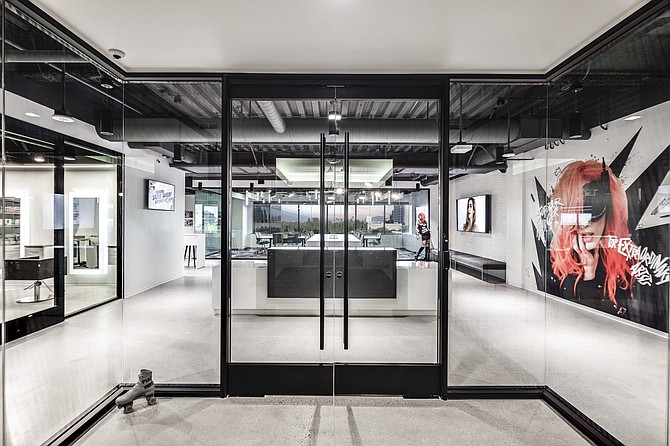 Design studio Ware Malcomb announced Tuesday that construction is complete at L'Oreal's Pulp Riot offices, located at 16501 Ventura Blvd. in Encino.
Pulp Riot is a L'Oreal-owned brand of hair coloring. The new 6,600-square-foot office includes a hair demo salon, conference rooms, open offices, flex offices and a photo studio.
Los Angeles-based Ware Malcomb selected materials that used simple textures in contrasting ways, such as black, white, and greys paired with white walls to allow blank canvases for the company's branding, according to the firm. Darker ceilings were incorporated to allow for a deep contrast with pops of colors on the walls.
The office will also serve as a training facility for stylists.

"This is a company with a very distinct brand, and we wanted the interior design to showcase that brand and tell a story throughout the space," Alicia Zaro, director of Interior Architecture & Design for Ware Malcomb's Los Angeles office, said in a statement. "In working closely with the team at L'Oreal and Pulp Riot, we created an environment where the company's branding could speak for itself in a space that inspires innovation and creativity for employees and visitors alike."
The conference rooms were designed around the names and color tones of Pulp Riot's popular hair color products. Ware Malcomb also installed the acoustical clouds in the main conference room and put down some carpet at the grand entry next to the demo salon. The firm also selected furniture colors tied to the overall branding concept.
French-owned cosmetics giant L'Oreal already has a sizable presence in the region, with a 240,000-square-foot distribution facility at Tejon Ranch.
Pinnacle was the general contractor for the Encino office.