Economists Forecast Solid But Softening 2020 at VICA Conference
Friday, October 25, 2019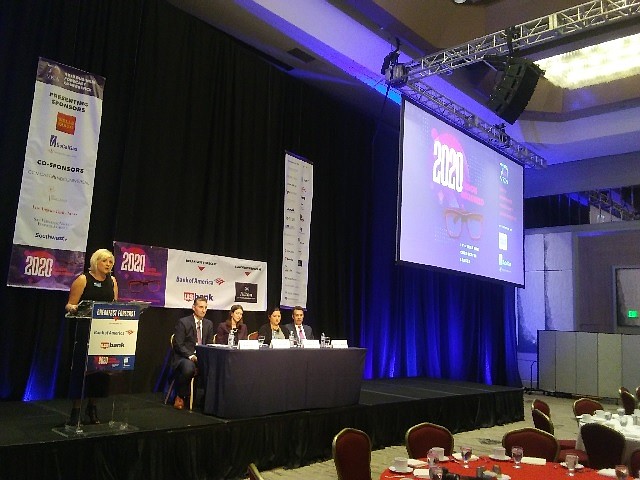 The news was muted yet hopeful from the Business Forecast Conference presented by Valley Industry & Commerce Association Friday morning at the Universal Hilton in Universal City.
Kurt Fuess, vice president of Global Commercial Banking at Bank of America Merrill Lynch, moderated a panel which featured Sarah House, director and senior economist at Wells Fargo Securities, analyzing the national economy; Jeffrey A. Kravetz, regional investment director of Private Wealth Management at U.S. Bank, tackling California's economy; and economist Somjita Mitra, parsing the Los Angeles and San Fernando Valley economies in particular.
House said she did not believe another recession was imminent. However, she conceded, "the economy is slowing." She warned of some "shocks on the horizon," including the possible $122 billion in tariffs on Chinese goods and a slowing Chinese economy to add uncertainty to the U.S. financial picture.
"Business investment has seen a weakness," she said, predicting it to prove "a negative in coming quarters."
For now, "fundamentals are in really good shape now," House said.
"I love the California economy. It's one of the most diverse economies in the world," Kravetz said, ranking it at No. 5 in the world, right behind Germany.
Kravetz said the stock valuation of California companies is double the Standard & Poor 500.
California's Gross Domestic Product peaked at 4.5 percent growth in 2016, and downshifted to 3 percent in the next year while the national economy rose 2 percent by comparison.
Kravetz explained how rising poverty has been offsetting solid economic statistics coming out of California's major cities. While unemployment is low in the big cities, it remains high elsewhere.
Kravetz noted that California's industrial market is hot, as is the development of commercial real estate. And California's ports are also doing well, according to the senior bank executive.
"There's a whole infrastructure built around the ports," he said. "Port volume is up and close to a record."
For the local angles on the economy through the end of 2020, Mitra discussed some movements in Los Angeles, the 19th largest economy in the world, and the subset of the San Fernando Valley.
"Our GDP will continue to grow," she said of L.A.'s economy, which has risen 2.7 percent in the last year, while unemployment was down 4.3 percent.
Basically, Mitra said, "Anybody who wants a job has a job," adding that personal income growth had risen 2.1 percent.
Mitra did mention some warning signs, noting that Angelenos are creating more credit card debt than savings; are falling behind on car loans; are living paycheck to paycheck; and "can't handle a $400 emergency," she said.
She pegged median rent in Los Angeles as too high at $37,000 annually, which means that locals are spending less on items such as food and thus not stimulating the economy as much as in previous years.
California, she said, will become a majority renter state by 2025. With less homeowners, people are leaving California. About 9 million have moved out in the last year while only 5 million have moved into the Golden State.
Some Valley local statistics Mitra noted: the San Fernando Valley accounts for more than a quarter of L.A. County's financial and insurance firms, and the Valley employs 18 percent of the county's workforce.