22 Graduate From Entrepreneurial Training Program
Monday, July 8, 2019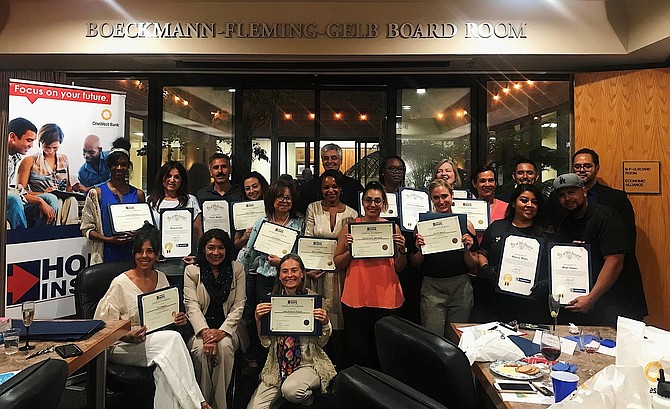 Operation HOPE's Entrepreneurial Training Program graduated 22 participants late last month at a ceremony at the Valley Economic Alliance office in Sherman Oaks. It was the program's largest graduating class yet.
The Entrepreneurial Training Program is a 12-week course designed to help aspiring entrepreneurs start and sustain businesses. Participants receive managment training, financial counseling and access to guidance and advice from alliance partners, including ICON CDC BusinessSource, Northridge Chamber of Commerce, OneWest Bank and College of the Canyons' Small Business Development Center.
The June 27 event commenced with welcome speeches from Gail Lara, a small business coach for Operation HOPE, and Randy Witt, chairman at the Valley Economic Alliance. Past graduates then took the podium to share their experiences starting businesses.
Finally, each graduating member gave a three-minute pitch of the business concept they sharpened over the program's 12 weeks. The class' startup ideas ranged from a champagne lounge to a career compatibility mobile app. Each then collected their diplomas, certified from the L.A. City Council District 12 Office.
Operation HOPE is a national nonprofit that partners with financial institutions, community organizations and municipal agencies to provide clients with financial and entrepreneurial counseling. It has HOPE Inside locations in Northridge and Tarzana.
In a related development, OneWest Bank, a strategic alliance partner to Operation HOPE, announced it will sponsor a Women's Business Center at the Northridge location of HOPE Inside, with the first programs beginning in August.