Hilton Universal City Owner Revises Expansion Plan
Monday, October 29, 2018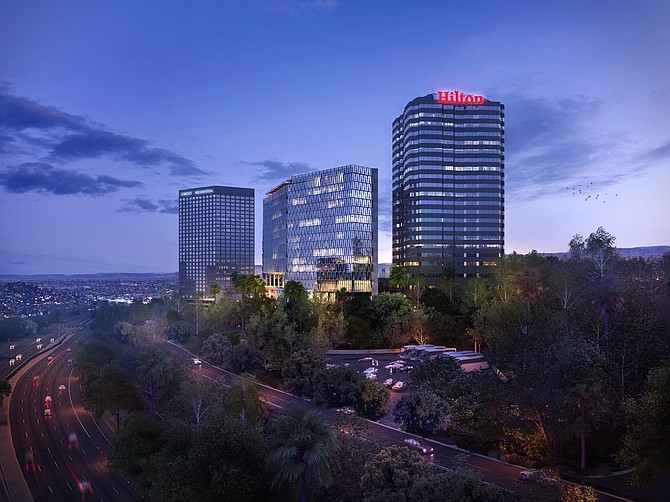 Sun Hill Properties Inc., owner of the Hilton Los Angeles/Universal City, have unveiled revised plans for construction of an additional tower to the hotel adjacent to the Universal Studios theme park.
In an Oct. 26 presentation, the Universal City-based real estate firm unveiled new plans for the addition alongside the existing 24-story, 495-room Hilton Universal, which was built in 1984.
The second tower will have 15 floors and 395 rooms, bringing the grand total to 890 suites at the Universal Hilton site.
"When our neighbors shared thoughtful comments about our project, it motivated us take a look at our plans and refine our proposal to further reduce neighborhood impacts. Today we are excited to move forward with a modified project adjacent to our existing hotel with an enhanced design," Sun Hill Properties Chief Executive Officer Mark Davis said in a statement.
Los Angeles-based LARGE Architecture, best known for the Argyle House in Hollywood and The Emerson in Downtown Los Angeles, designed the structure. Sun Hill originally announced the project in December 2017.
Valley Industrial & Commerce Association President Stuart Waldman commended the new design, adding in a statement, "The Hilton has long been an upstanding member of the San Fernando Valley and greater Los Angeles community, and their substantial investment in their property will yield returns for the entire community for years and years to come."
The decision to expand came shortly after the opening of the popular attraction The Wizarding World of Harry Potter at Universal Studios in April 2016.
"This expansion will allow the Hilton to meet that growing need and get ready for future demand generated by new attractions at Universal Studios and forthcoming events like the 2028 Summer Olympics," Davis said in a statement.
With the proposed addition modified and the development application revised, Sun Hill now intends to engage in more public discussions regarding the project.
"We look forward to restarting the dialogue we initiated earlier this year about creating hundreds of new, good-paying jobs and urgently needed hotel rooms for the region," Davis said.