Laemmle Breaks Ground on Newhall Cineplex
Wednesday, October 17, 2018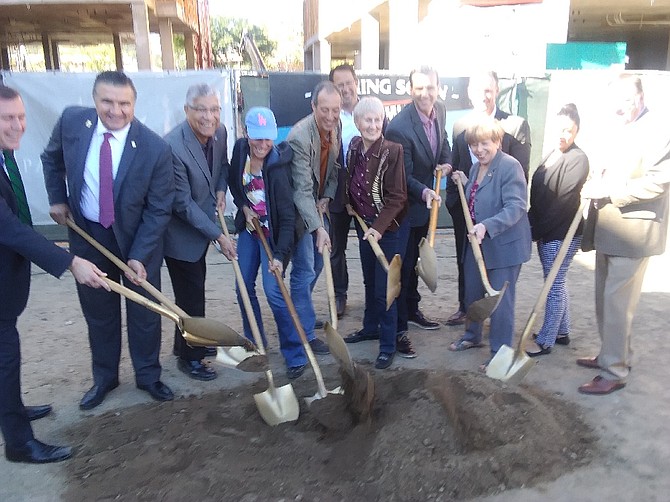 Construction has officially begun in Santa Clarita on Laemmle Newhall 7, an upscale movie theater at the corner of Main Street and Lyons Avenue, on what has become known locally as the Redevelopment Block in Old Town Newhall.
At Wednesday's groundbreaking, Laemmle Theatres owner Greg Laemmle, on hand with wife Tish and Senior Vice President Jay Reisbaum, scooped fresh dirt with golden shovels to symbolize the start of establishing the new art house theater, which will feature seven screens, a total 500 seats, and the promise to bring independent, foreign and documentary films to the Santa Clarita Valley.
From the podium, Laemmle recalled the humble beginnings of the company, which began in 1938 when his grandfather, Max, and grand-uncle Kurt (cousins of Universal Pictures founder Carl Laemmle) purchased their first movie house in Los Angeles' Highland Park neighborhood.
"Eighty years and three generations later … we continue today as a family operated business," he told a crowd of 60, which included dignitaries and speakers State Sen. Scott Wilk, State Assemblymember Dante Acosta; Santa Clarita Mayor Laurene Weste; Santa Clarita Mayor Pro Tem Marsha McLean; Santa Clarita City Councilmembers Cameron Smyth, Bob Kellar and Bill Miranda; Santa Clarita City Manager Ken Striplin; and Josie Sandi, district representative for Congressman Steve Knight.
Wilk said that the Laemmle Newhall 7 will offer locals some cinematic alternatives to multiplex fare.
"We only get the 'man' films – Superman, Batman and Aquaman," he quipped.
Added Sandi, "As a resident of this community, it's always great to have options."
The pending Laemmle Theatre is one of three adjacent parts of an architectural narrative currently unspooling on the Redevelopment Block. Old Town Newhall Parking Structure opened in May, while the in-progress Newhall Crossings residential and retail space, along with the Laemmle, are both due in late 2019.