Developer to Expand Sheraton Universal Hotel
Thursday, June 14, 2018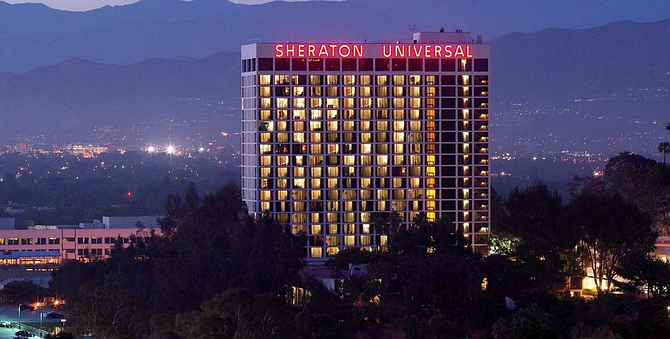 A developer has filed with plans with the city of Los Angeles to expand the existing Sheraton Universal Hotel near Universal Studios Hollywood.
According to Urbanize.LA, Chinese developer Shenzhen New World Group will construct a 31-story tower featuring 551 hotel rooms and totaling 293,000 square feet. New World Group already owns the 20-story Sheraton Universal Hotel at 333 Universal Hollywood Drive, a 451-room tower on nearly 9 acres, which it purchased for $90 million in 2011.
Just six months ago, the parent company of nearby Hilton Los Angeles/Universal City announced plans to add a 15-story, 365-room adjacent tower to its main building. Universal Studios owner NBCUniversal, which has entitlements to construct a pair of 500-room hotels near its theme park through a master plan, contested the Hilton's expansion ambitions by filing a lawsuit.
According to an Aecom report, Universal Studios Hollywood saw a 12 percent increase in attendance in 2017 over the year before, totaling 9 million visitors and closing in on the gap between the Universal City theme park and rival Disneyland (18.3 million visitors annually last year) and sibling park California Adventures (9.6 million). Recent additions to Universal Studios Hollywood — based on the "Harry Potter," "Fast & Furious" and "Walking Dead" movie and TV franchises — have boosted Universal's popularity in the last few years.