Beverly Grove's Andre's Italian Restaurant to Move to Canoga Park
Monday, July 23, 2018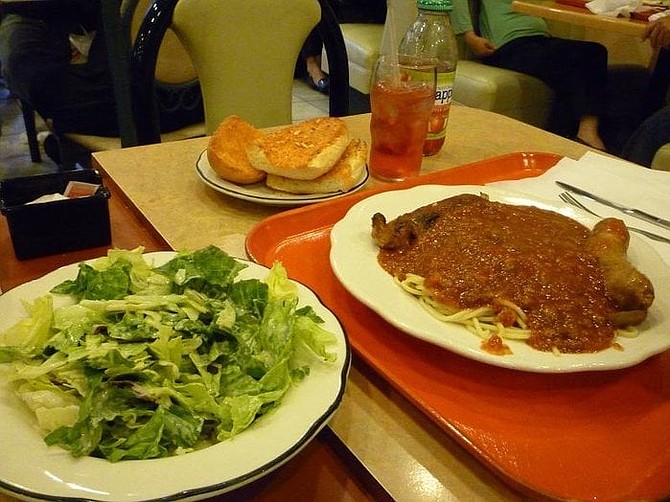 A pending development in Los Angeles' Fairfax District has prompted Andre's Italian Restaurant, a renowned casual dining spot at Town & Country Shopping Center at Fairfax Avenue and Third Street, to reopen in the Valley.
Debuting this fall, the new location will be established in case Fairfax's Andre's is forced to shutter. The sibling restaurant will also bear a new name: Grand Italiani.
Andre's Italian Restaurant is well known among L.A.'s longtime foodies for its made-on-site spaghetti, garlic bread and house salad dressing, which the eatery also sells by the bottle. A fixture at Fairfax since its 1963 opening, the cafeteria-style venue in more recent years expanded by taking over an adjacent restaurant space and adding a gelato station.
The news of the Valley location comes mere weeks after Urbanize.LA reported in May that architecture firm MVE + Partners unveiled plans for a proposed mixed-use development at Town & Country — located across Third Street from the Farmer's Market and Caruso's The Grove town center — where Andre's is flanked by a K-Mart and a Whole Foods. The MVE project calls for the construction of a 251-foot-tall, 19-story glass-and-steel high-rise with 381 residential units and 66,000 square feet of ground-floor restaurants and retail. The proposed tower would replace the portion of the Town & Country currently occupied by K-Mart while Whole Foods and CVS Pharmacy will undergo an overhaul.
On July 18, Andre's owners, via Facebook, updated customers on the restaurant's status and its relocation plans. With Andre's lease at the shopping center set to expire in December, the owners are seeking a month-to-month lease past the date to keep the restaurant going until the site's landlord receives approval from the city to break ground on the redevelopment.
"While the city, local leaders, teachers and administrators at Hancock Park Elementary School, and we are all pushing back on the scope and scale of the project, eventually the landlord or his successors will prevail in updating the shopping center in some way," the post continued. "At that time, Andre's will have to be closed for an indefinite period during the demolition and construction phases of the new development."
The owners also expressed reservations and uncertainty over whether Andre's can continue once the development has been completed.
"An Andre's at the new shopping center might be possible, but the new lease terms would make for a costly proposition: higher rent, taxes, insurance, common area maintenance, etc.," the post read.

In the same post, Andre's announced its securing of a new location in Canoga Park.
"It's much less costly to lease a space in Canoga Park than it is in the Beverly-Grove area. Additionally, we would be able to keep our prices more affordable for our customers," the post continued.
Plans for the Canoga Park restaurant — which has the Metro Orange Line a six-minute walk away — have been submitted with the city. The owners added that the new name "was carefully chosen to be easily remembered and to honor the many great Italians that helped to enrich our lives with their culture, scientific achievements, food and strong family values."