AEROSPACE: COMPANY TO MAKE ENGINES FOR BOEING VEHICLE THAT WILL REPLACE SPACE SHUTTLE.
Rocketdyne in New Space Deal
Monday, April 25, 2011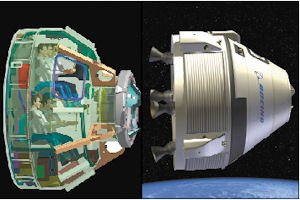 Pratt &Whitney Rocketdyne will supply engines for a new spacecraft being developed by the Boeing Co. to take astronauts into low-Earth orbit.
The Crew Space Transportation-100 spacecraft will be the replacement for the Space Shuttle to travel between Earth and the International Space Station and other future stations circling the planet.
The design and building of the launch abort system and the orbital maneuvering and attitude thrusters will take place in Canoga Park, with testing taking place at other sites.
The launch abort system, which separates the service module from the lift vehicle, was tested in February out at Mojave.
For PWR this is not about creating the engines from scratch but instead using proven equipment. The thrusters used for attitude control, for instance, are based on similar thrusters used on Gemini space capsules in the mid-1960s.
Those thrusters had been used on other programs and now come back to their original use for NASA, said John Vilja, vice president of strategy, innovation & growth at PWR.
"When we build these things they will not have any surprises for us," Vilja said.
Boeing was one of four companies selected by NASA to receive funding in the second phase of the Commercial Crew Development program that will be used for both government and private flights.
The CST-100 is scheduled to be ready to go into space in 2015.
In the first phase of the program, Boeing designed, built and tested the structure of the crew module and built an avionics systems facility that could support rapid prototyping and full-scale development.
As the CST-100 craft will carry civilian astronauts there are additional requirements and rules contractors must follow than if the craft was just used by NASA.
The CST-100 project represents a self-investment by Pratt & Whitney, something that the company does cautiously to make sure there is a solid market case.
The market for the RS-68 engine that was developed for the Delta IV, for instance, turned out not to be as large as the company thought. The engine is now planned to be used on the Ares V cargo launch vehicle that has been budgeted by NASA.
Lasting market
Taking astronauts into low-Earth orbit, on the other hand is seen as a good investment and a market not likely to diminish soon, Vilja said.
In addition to the International Space Station, the CST-100 will travel to the Orbital Space Complex proposed by Bigelow Aerospace.
Prev Next