SFV TECHNOLOGY
Recent and archived news stories on: Alternative Energy, Automotive, Computing, Engineering, Internet, Nanotech, Software, Telecom, Wireless...
ServiceTitan has appointed two technology experts to its board of directors – Diya Jolly and Sameer Dholakia.
Artificial intelligence firm Ferret in Calabasas has raised $4 million in a seed round of investment.
Semtech Corp. beat Wall Street expectations on earnings and revenue in its fiscal second quarter.
Semtech Corp. announced the full production of its newest Tri-Edge CDR chipset to enable data center connectivity over multi-mode fibers.
Robert Mehrabian will resume the role of chief executive at Teledyne Technologies Inc. upon the retirement of current head Al Pichelli on Oct. 15.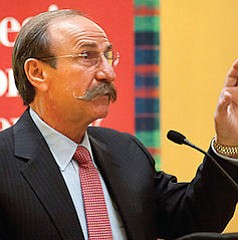 Capstone Green Energy Corp. has received an order for the long-term rental of one its C1000S microturbine systems.
NetSol Technologies Inc., the maker of vehicle and equipment leasing software in Calabasas, plans to deploy its cloud-based NFS Ascent platform across the operations of Motorcycle Group, the Calabasas company announced.
US Nuclear Corp. has joined a consortium of companies as part of the Charge on Innovation Challenge to provide electricity to power mining vehicles.
Legal technology company LegalZoom.com Inc. shared its second quarter results in its first earnings call as a publicly traded company.
LegalZoom Inc. has appointed Elizabeth Hamren, Microsoft Corp.'s corporate vice president for gaming experiences and platforms, to its board of directors.
Teledyne Controls, a subsidiary of Teledyne Technologies Inc., obtained Federal Aviation Administration approval for installation of its aircraft cabin environment sensor on the Airbus A320 aircraft.
NetSol Technologies Inc. has joined the Consumer Bankers Association as an associate member, the Calabasas company announced Wednesday.
Semtech Corp. is collaborating with a Japanese company on a new line of peel-and-stick sensors.
Semtech Corp. will provide its long-range, low-power technology for a fire prevention system from a South Korean company.
Teledyne Caris has entered a partnership with the Nippon Foundation-GEBCO Seabed 2030 Project and the U.K. Hydrographic Office to advance efforts to map the seafloor by 2030.
Prev Next