Big In-Person Gathering for VICA Event
Friday, October 15, 2021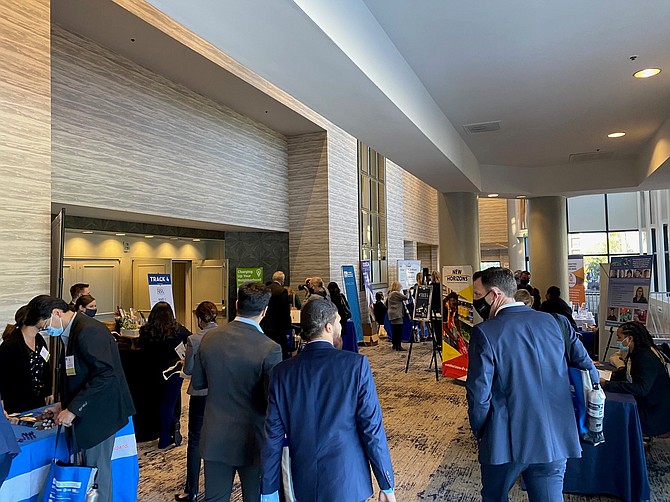 In what may have been the San Fernando Valley's largest public gathering since the pandemic, up to 340 business and civic leaders attended the Business Forecast Conference Friday at the Hilton Universal City hotel.

The conference, put on by the Valley Industry and Commerce Association, featured an economic forecast in the morning followed by panel discussions on such topics as transportation, tourism and back-to-work issues, and ending with a luncheon featuring a keynote talk by Tom Mone, the chief executive officer of OneLegacy, an organ and tissue donation nonprofit.

Stuart Waldman, president of VICA, said 342 registered for the event although typically not all end up attending and many come for part of the conference. That was about 100 fewer registrations since the last in-person conference two years ago, but it may have been the largest such gathering in the Valley since the pandemic. At least the Hilton, the area's largest hotel, has not hosted such a large public event since the pandemic, although it had some weddings and other private gatherings that rivaled it in attendance.

In the morning session on the economy, Jeffrey Kravatz, regional investment director of U.S. Bank's Private Wealth Management, said "California's economic dream is currently under stress." The state is seeing more droughts and fires, which hurt the economy; the ports – which count for about a million jobs in the area – are bottlenecked, and "housing prices are crazy in California."

Despite that, he said, technology and biotech are strong with the state getting about half of all venture capital funding. In addition, the entertainment industry remains sturdy, and tourism and agriculture will continue to contribute to the state's economic health.

In short, Kravatz said, the state has its issues, "But I'm not worried about California."