Big Gift for Providence Hospital
Monday, March 15, 2021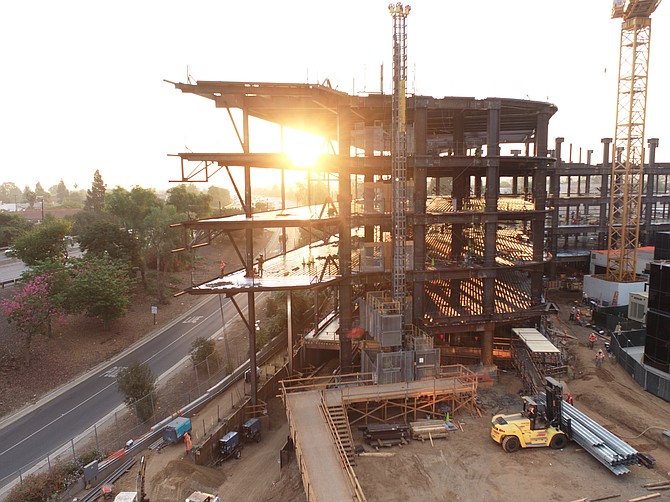 A $50 million gift – called the largest ever to a Providence hospital in California – has been pledged to support the expansion of Providence Cedars-Sinai Tarzana Medical Center.

The donor is the Donald Friese family. As a result of the gift, the five-story patient tower now under construction will be named the Friese Family Patient Tower to honor Donald and Andrea Friese and their family.

The donation was made to the Providence Tarzana Foundation, which made the announcement Monday.

The $542 million project, which includes the five-story patient tower, outpatient and ambulatory services, is scheduled to be completed in 2023.

"Don and Andrea Friese are giving the most precious gift of all to their local community," said Matthew Rinnert, chief philanthropy officer for Providence Tarzana Foundation. "The gift of health and wellbeing."

"This is a truly historic day in Southern California," said Erik G. Wexler, president, operations and strategy, Providence - South. "Don's and Andrea's generous gift will be instrumental in bringing to life the vision of Providence Cedars-Sinai Tarzana Medical Center."

Thomas M. Priselac, president and chief executive of Cedars-Sinai, said he is excited to continue the collaboration with Providence for the benefit of the region.

"This transformative gift from the Friese family will enable Providence Southern California and Cedars-Sinai to further our collective mission of bringing the highest quality care to residents of the San Fernando Valley," Priselac said.

The Tarzana hospital is a joint venture between Cedars-Sinai and Providence.

"The San Fernando Valley has been our home for decades," Donald Friese said in a statement. "We've raised our family and built our business in Southern California. We want to give back to the community that has given us so much. We can't think of a better way to express our gratitude than to help bring world-class health care close to home."

Friese built up the Los Angeles architectural hardware, equipment, tools and supplies company C.R. Laurence Co. after being hired on as a warehouseman for the company in 1961. Under his stewardship, C.R. Laurence went from $250,000 in revenue to $500 million. He sold the company and shared his "lifetime of profits" with his employees, Providence said in a statement.

Friese and his family, through the Friese Foundation, donate to other organizations as well, including the Salvation Army.