Hair Salon Sees Surge, 'Booked Through Until July'
Monday, June 7, 2021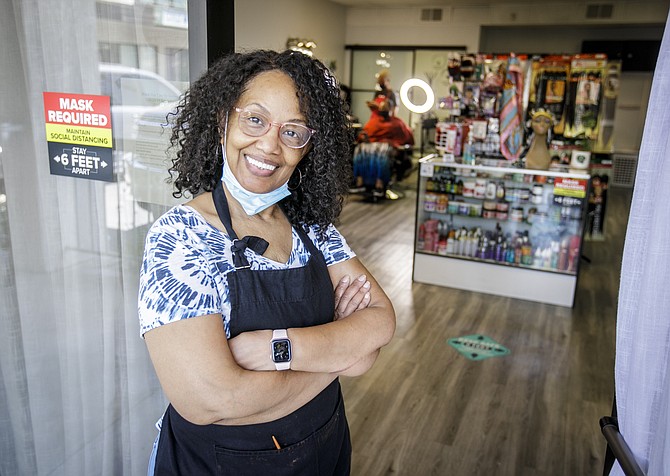 As Black Hair by Justine prepares for the state reopening with new services, owner Justine Belyeu has seen a surge in business in the last few weeks as clients get ready for the summer months. 
"We are booked to where I don't have any openings until the end of next month and the other girls are booked through until July," Belyeu said. 
After a year of intermittent closures, she was concerned she might have to close her doors and is thrilled that business is rebounding. "So we're not just surviving, we are thriving," she added.
The Santa Clarita-based salon, which specializes in hair styles and care for Black women, has revamped its offerings and business procedures over the past year. Prior to the pandemic, the business offered eyelash extensions and facials – both of which have been discontinued for now. In their place, however, Belyeu has an extended hair inventory for wigs and braids and now offers CryoSkin services, which she said have been unexpectedly popular. 
"The machine itself is an actual machine that heats up to a warming temperature, that actually kind of melts the fat on a person's body. And then it goes from heat to a cold … to where it actually freezes the fat. So when you go from heat to frozen, then it breaks the fat and then it's eliminated through the lymphatic system. It's like getting liposuction without the treatment, without the lipo surgery. It's very non invasive," Belyeu said. 
When the weight loss is maintained with healthy lifestyle choices, she said, her clients see a difference and keep coming back. 
The new services require less face-to-face time with clients while completing treatments and Belyeu is maintaining the decreased capacity in the salon brought about by social distancing. She prefers having less foot traffic during appointments anyway, which for some services can be as long as six hours. The longer appointments also mean fewer people are in the salon each day.
"We really never stacked our clients back to back like most people do, but we would have clients kind of waiting for their appointments. And it could be like, maybe 20 minutes at the most. But we don't allow that anymore, the waiting," Belyeu said. "We don't have an overlapping client waiting area; your appointment is strictly that appointment time."
The safety restrictions in place are important to Belyeu and she continues to wear her mask at all times in the salon and asks others in the salon to follow suit to ensure everyone's safety. 
"We have decided that we're going to leave our masks on a while. We want to see what the herd immunity is doing. We want to see what the numbers are," she explained.
The added caution is important to her because she has young grandchildren she wasn't able to visit for over a year due to the pandemic and they still cannot get vaccinated.  
"If we reach that 70 percent (vaccination), then we're good to go," she said. "But until then, we're going to leave our mask on."