Tent Hospital in Lancaster Will Care for COVID Patients
Tuesday, January 12, 2021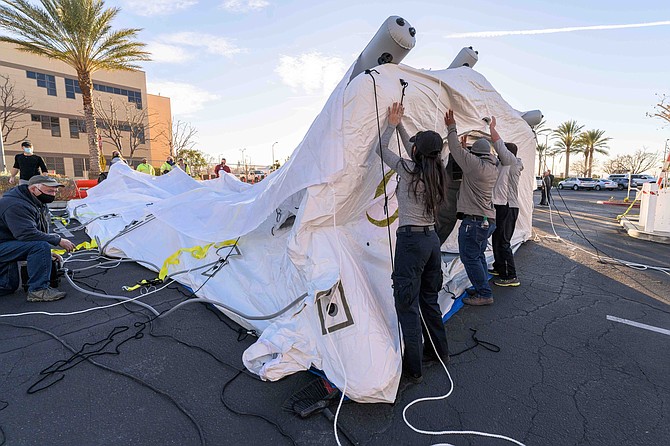 The City of Lancaster, in partnership with North Carolina nonprofit Samaritan's Purse and Antelope Valley Hospital, is building a 50-bed field hospital to serve the overwhelming number of COVID-19 patients.

A tractor-trailer arrived Saturday with the first portions of the field hospital and disaster response specialists began to erect the hospital that same day, Samaritan's Purse said in a statement. Additional components were airlifted by a DC-8 cargo plane on Monday.

The facility, located in the parking lot of Antelope Valley Hospital, will specialize in respiratory care.

"We are grateful for the support provided by Samaritan's Purse, as we anticipate another surge of COVID patients in the coming weeks, the help couldn't have been more timely," Ed Mirzabegian, chief executive of Antelope Valley Hospital, said in a statement. "We have also been humbled by the support of the community, as volunteers help set up tents and bring in supplies needed for the field hospital. We have faith that together we will overcome this."

"They have been instrumental in responding worldwide to this pandemic, and we are fortunate to have their support here in the City of Lancaster," Lancaster Mayor Rex Parris said in a statement, referring to Samaritan's Purse.

This is the fifth field hospital deployed by Samaritan's Purse in response to the pandemic, the nonprofit said.