Gelt and Uhon Secure $83 Million Bridge Loan for Watermark Project
Tuesday, January 5, 2021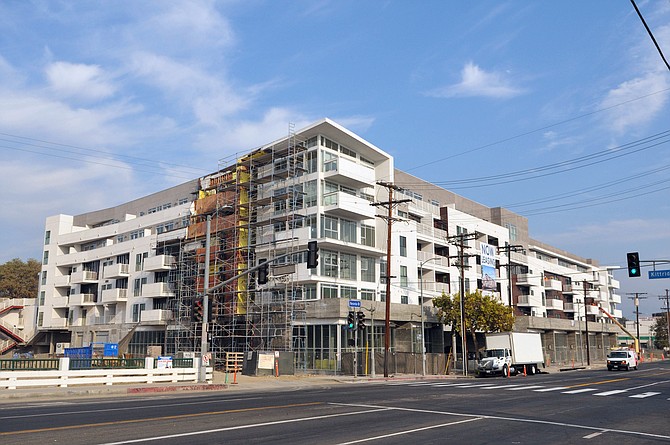 Real estate developers Gelt Inc. and Uhon have secured $83 million in bridge refinancing on behalf of its joint venture The Watermark Apartments, a 250-unit multifamily property in Reseda.

Refinancing for the loan came from New York-based Square Mile Capital. The transaction was brokered by Davies Group at Los Angeles-based George Smith Partners.

A representative of Tarzana-based Gelt told the Business Journal Tuesday that Watermark, located at 6625 Reseda Blvd., is due to open within two months.

Designed by Albert Group Architects, the six-floor mixed-use complex, which features workforce apartments above nearly 6,600 square feet of ground-floor retail on a 2.4-acre parcel, has been in the works for a couple years now and has garnered the support of city officials such as City Councilman Bob Blumenfield as a Reseda revitalizer. The development, which includes five stories of townhomes in the rear building, will offer a combination of studio, one-, two- and three-bedroom dwellings that range in size from 419 to 1,386 square feet.

Watermark, which will be managed by Moss & Co., will loosely target as tenants the employees of such area entities as the Cedars Sinai Tarzana Hospital, affiliated health care employers, and the restaurant and retail industries.

"Despite the strong market dynamics, our team knew that a well-funded capital source versed in supplying flexible debt solutions was required in a year the likes of 2020," said Malcom Davies, principal and managing director at George Smith Partners, said in a statement. "Our ability to secure such a large loan during a pandemic is a testament to the quality of Watermark and the credentials of its sponsors."

Davies, along with other Davies Group members, Senior Vice President Zachary Streit; Vice Presidents Alexander Rossinsky and Drew Sandler; Assistant Vice President Aiden Moran; and Analyst Brandon Asherian sourced the financing on behalf of the Gelt-Uhon joint venture.

Gelt Inc. has acquired a total of 10,785 apartment units since its start in 2008, and currently owns a portfolio of 7,404 units plus approximately 200,000 square feet of commercial space.

Frequent partner Uhon — a private capital real estate investment and development group with offices in Pasadena and Toronto, Canada — is an arm of Shenzhen Yuhong Investment Group Co. in China.