LOCAL BUSINESS SCHOOLS ADAPT TO THE PANDEMIC WHILE ENROLLMENT REMAINS STRONG.
An MBA in Unusual Times
Monday, September 14, 2020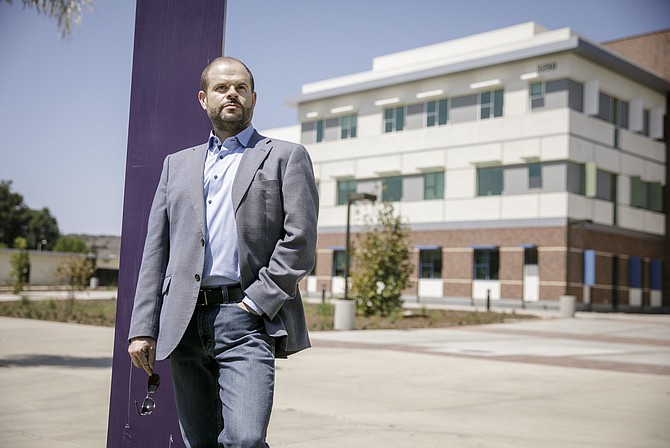 Master in business administration programs in the Valley region have not seen a decrease in enrollment as a result of the coronavirus pandemic, leaving administrators pleasantly surprised after months of uncertainty.
In fact, numbers have either met
expectations set prior to March or exceeded predictions, some program directors said, despite a lack of in-person networking and classroom connections — hallmarks of the MBA experience.
California State University — Northridge, No. 4 on the Business Journal's MBA Programs list, has one of the largest admitted classes they've had in a long time, according to Kristen Walker, program director of CSUN's David Nazarian College of Business and Economics.
"We're dealing with high demand at a time when delivery is changing," explained Walker. "Most of our MBA instructors are adept in dealing with the online environment, so that hasn't been as much of an issue or concern as much as being able to give the MBA students the same attention when we have such high demand."
California Lutheran University in Thousand Oaks has seen 98 percent of its students return to classes, and new student numbers have not dropped, according to Vlad Vaiman, associate dean for the university's school of management. California Lutheran is No. 1 on the Business Journal's list.
"Right now, some people are out of work and there's so much disruption that I think the only meaningful and prudent investment is the investment in yourself," said Vaiman. "The best way to advance yourself is through advanced education."
Vaiman also pointed out that historically, any time the economy tanks, universities see an uptick in interest.
"Historically, we've seen an inverse relationship between the economy and enrollment in graduates," added Arman Davtyan, assistant dean of Pepperdine University's Graziadio Business School. "The logic is, if the economy is not so good, people really have uncertainty regarding their careers, their jobs. That's typically a time when they invest in themselves and in their education."
Businesses are doing less hiring because of the pandemic, Davtyan continued, especially when it comes to new college graduates.
"Halfway through the senior year I'm sure students had all sorts of plans in place, then COVID happened and all those opportunities evaporated," he explained. "These new college grads are looking for plan B."
Pepperdine is No. 2 on the Business Journal's list, with locations in Calabasas and Encino.
Virtual vs. in-person
MBA recruits range in age from people in their 20s to those in their 50s — along with a wide range of work experience and industry backgrounds. So the more options offered for an MBA, the easier it is for universities to draw in people.
This year the majority of classes for the fall semester are virtual with full and part time schedules, but California Lutheran's executive program was the only program that still offered an in-person component.
Outdoor classrooms originally designed for undergrad labs and fine art classes will be used on the weekends for the university's executive MBA students.
"As soon as we're allowed to go back indoors, the university has invested a lot of money into retrofitting the classrooms with physical barriers and sanitation stations," added Vaiman. "We're ready for 50 percent capacity as soon as the order comes in."
At other schools, software helps students and teachers connect in a virtual environment. Pepperdine is piloting the software platform TopHat, which allows not only a video conference component but offers a way for students to break out into smaller groups to discuss case studies.
Woodbury University in Burbank, No. 3 on the Business Journal's list, uses RingCentral, another platform introduced in March.
"It's like building the plane while flying," said Satinder Dhiman, associate dean for Woodbury's school of business. "We were able to adjust our course right away. Immediately we worked with IT. Within a week we were able to obtain an institution-wide application called RingCentral — it's an application powered by Zoom. That provided us the platform to deliver our courses online."
California State University — Channel Islands' MBA program, No. 5 on the Business Journal's list, is also fully online this fall. That is perhaps for the best, as Manzanita Hall, which houses in-person classes for the program, is currently being renovated.
Unusual classes
Class content has been tailored to fit with the unusual times too, focused more on critical thinking and a problem solver's mindset. And, of course incorporating more tech into business.
"I was brought in not just because I have experience with the graduate program, but also because my research is all about technology and merging that idea of marketing, technology and education," said CSUN's Walker, who was hired in mid-May.
"What are the new realities we're all facing in this environment? You don't have to be a specialist in my research area to know that technology is going to be a big part of it," added Walker. "In terms of our electives, I'm trying to get faculty to offer electives that are focused on the digital realities that are now so critical to business decisions – and that's in every functional area of business."
California Lutheran is introducing a class called "external disruptions," which teaches future and existing managers to be proactive when it comes to outside factors that can potentially leave huge dents in business operations or the bottom line — factors largely outside of an individual's control.
"We all sit in our silos, whether it's marketing, operations, finance or human resources, but business doesn't work like this; business is not a bunch of silos," explained Vaiman. "You need to understand the external environment outside of the organizations and not only be reactive to that, you need to scan it all the time as a manager and try to be proactive."
Woodbury's MBA, which has always been known for a civic engagement element, is doubling down on that idea in the face of not only a pandemic, but widespread civil unrest, global warming and the homelessness crisis.
"Our goal in the MBA program is not just to give them information about how to make money, how to be rich, how to sell stock," said Dhiman. "We want to sensitize them with social problems because they will be living in society as leaders, they will be running organizations."
Woodbury's strong social and moral responsibility message attracts a lot of individuals looking to join or start their own nonprofit, Dhiman said, and 60 percent of its students are female.
International crunch
MBA programs are known for networking opportunities and in-person connections, which some consider diluted in a virtual environment.

"If you really ask people their top three reasons for going into business school, making that kind of investment, networking is almost always in that top three," added Davtyan. "Just like COVID changing everything else, networking is changing too. You're not going into this in-person reception, trading business cards, shaking hands; you're not able to do that."

To Pepperdine's credit though, they have cultivated virtual networking opportunities through various software platforms instead, for current and prospective students to meet.

For international students, these possibilities are further diminished in the wake of rising COVID cases and civil unrest.

"That is one area where I can safely say student attendance has been significantly impacted by COVID. The greatest concentration of international students for us is in our full-time program," said Davtyan at Pepperdine.

"This decreased demand is not related to the popularity of MBA programs. It's the decrease in the authority of the United States right now," added Vaiman. "This current administration is not helping the case, to say the least. I have to tell you, I have a lot of friends in different parts of the world, as an international scholar, and we are the biggest losers, in terms of international students."

The biggest winners, at U.S. universities' expense, have been Canada and Australia, for international students to get their MBAs. Education is comparable, Vaiman added, and students don't have to worry about having their visas revoked once they're in the country.

"We have experienced a huge decrease in visa granting to people from India, which has never happened before, to China, and this goes hand in hand with the Trump Administration's policies toward students and legal immigration," explained Vaiman.

"Remember when they said all international students who are not taking classes in person should leave the U.S.? Stanford and Harvard, the big hitters, filed a lawsuit immediately and the administration backed down from this policy," continued Vaiman. "But they're still doing everything possible to discourage international students from coming here."

...
Are you a subscriber? Sign In