Princess Takes Delivery of New Ship
Thursday, October 1, 2020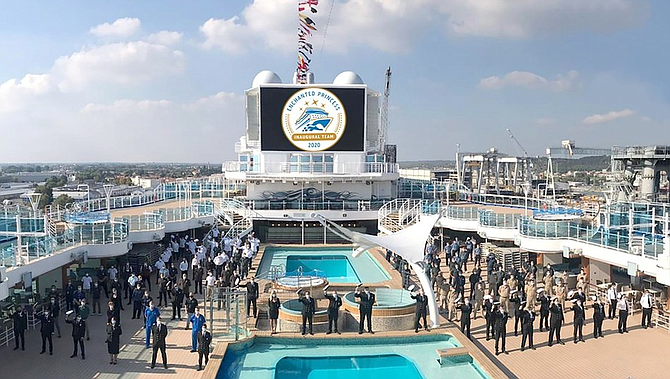 The Enchanted Princess cruise ship was delivered Thursday to Princess Cruises in an official handover ceremony at the Fincantieri shipyard in Italy.

Princess Cruises is based in Santa Clarita.

The Enchanted Princess is the first cruise ship completed by Fincantieri since the emergence of the coronavirus pandemic. It is also the 100th cruise ship constructed by the Italian ship builder in its history.

Princess President Jan Swartz in a statement recognized the bond between Princess' parent company Carnival Corp. and longtime construction partner Fincantieri.

"Fincantieri shares the Princess spirit of delivering the highest level of excellence, and we know they will also share in our enthusiasm with pride when the ship welcomes its first guests," she added.

Weighing 145,000 tons and with a capacity of 3,660 guests, the Enchanted Princess is equipped with Carnival's OceanMedallion connectivity, luxury sky suites with exclusive amenities and the most pools and hot tubs ever built into a cruise ship, according to Carnival.

The ship will sail to North America with an expected arrival in December. It will spend 2021 primarily based out of Fort Lauderdale, Fla., for a season of Caribbean cruises. It is also scheduled to sail out of Rome for several Mediterranean cruises next summer.

In the last few months, Princess has sold 18 older, less efficient ships from its fleet to free up capital for the deployment of new ships including the Enchanted Princess.