Agoura Hills Developer Proposes 171-Key Hotel in NoHo
Tuesday, November 24, 2020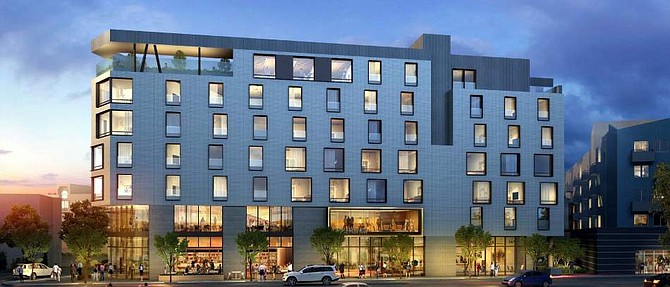 An Agoura Hills developer has filed plans for a proposed seven-story hotel in North Hollywood.

According to plans filed with Los Angeles Planning Department, Agoura Hills-based Napa Industries wants to redevelop about 30,000 square feet — located at the northwest corner of Lankershim Boulevard and Hesby Street — into a 171-suite hotel.

Designed by the firm AXIS/GFA, the contemporary complex, which would rise at 5057 Lankershim Blvd. on a site that currently has two small commercial buildings, will also contain 9,350 square feet of ground-floor retail, a restaurant and an 89-car semi-subterranean parking garage.

A conference facility, fitness center and rooftop pool deck are among the proposed amenities.

Napa Industries, which is based at 5330 Derry Ave., is requesting the demolition of the two commercial buildings and surface parking lots for construction of the hotel. The developer is requesting a series of discretionary entitlements from the city, including a general plan amendment, zone change, and conditional use permit for alcohol sales.

Trendy North Hollywood has been particularly robust when it comes to developments. This year saw a 297-unit mixed-use project called Lankershim and Otsego Street reach completion while an Amazon Fresh market has opened at 5101 Lankershim Blvd.

Meanwhile, construction continues on Trammell Crow's mammoth $1-billion mixed-use District NoHo — due to replace the North Hollywood Station parking lots with a row of new residential, office and retail buildings — which is on its way to rolling openings over the next three years.