Valencia Ice Rink Looking for Buyer to Stave Off Closure
Wednesday, May 6, 2020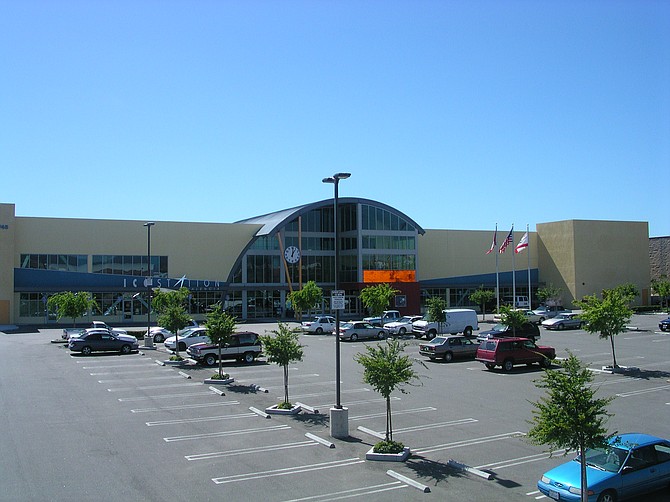 For 20 years, Ice Station Valencia has thrived in the heart of Santa Clarita Valley. Today, it faces imminent closure if a buyer does not step forward, according to owner Roger Perez.
Perez, who had a hand in building the 93,000-square-foot, three-sheet ice facility, has hosted public skating and local hockey games at 27745 North Smyth Dr. since 2000. He has been working with the landlord for a solution to save the facility, which employs 100 people and includes a pro shop and The Grill at the Ice Station Valencia, a second-level full-menu restaurant.
However, he told the Business Journal Wednesday, "I'm in liquidation form (about to sell off equipment). We've exhausted (our avenues)," he said. "Once you dismantle this building, there's no getting back to it."
Perez has a good relationship with his landlord, an individual who has already given him three rent reductions over the years but has decided the time has come to sell the land, especially in a market where warehouse space is in demand.
That said, the landlord has been lenient enough to give Perez a shot at saving the business.
Perez: "I said, 'Let's try to figure out me trying to preserve it.'"
On Monday, Perez announced that he would be meeting with the city of Santa Clarita to discuss the issue. That day, Perez had a phone conversation with Santa Clarita Mayor Cameron Smyth but he said that, as of yet, nothing has happened.
"The city is planning to meet with the owners of the Ice Station, but that meeting has not taken place yet," the city of Santa Clarita's Communications Manager/Public Information Officer Carrie Lujan said Wednesday.
"The fact that it was built in Santa Clarita is Santa Clarita's luck," said Perez, who describes his business as "the Taj Mahal of ice-skating rinks."
He continued: "There's no one in that community (who) has not passed through that building, whether to have a birthday party, to curl, to broom ball."
When the rink shut down due to the virus crisis, Perez took it as an opportunity to perform some regular rink repairs — costing him about $150,000 — during the downtime.
The landlord caught wind of the repairs and informed Perez that he was thinking of selling the land.
The Ice Station's moment of urgency already came and passed in late March, when the business announced its permanent closure, shortly after having announced a temporary suspension of operations due to the coronavirus outbreak.
Santa Clarita City Council members at an April 28 online meeting heard from supporters who asked the city to preserve the property's land use as an ice skating rink and to enter negotiations with potential buyers. An online petition dubbed "Save the Ice Station" has gathered nearly 25,500 signatures to date.
Despite that support, Perez said conversations with potential buyers, including hockey team Los Angeles Kings — which purchased the ice rink at Pickwick Gardens in Burbank two years ago — have not translated into a deal.
The landlord was lenient enough to let Perez seek out potential buyers. Of the Kings' offer, Perez said it was unfortunately "super low and unacceptable."
Perez does feel that an ice-skating rink can continue post-pandemic, saying there's a "voracious appetite" for hockey.
If a new owner assumes Ice Station Valencia, Perez will stay on board long enough to assist with the transition.
"It's a very demanding business and I've been at it for 20 years," he said.
Across two decades, Perez has derived much satisfaction from what he has established.
"The accomplishment of building this the way I wanted, that'll be with me forever," Perez said, in addition to seeing boys and girls "ages 5, 6, 7 years old play and develop as good hockey players and developer as really fine young (men and women)."
Perez added that incoming visitors for hockey games indirectly contributed to the city of Santa Clarita's bottom line and the expansion of its hotels.
"If you go back to 2000, when the master plan of the community was guided by Newhall Ranch, on their tour was the Ice Station," he said. "They actually sold a ton of homes based on the Ice Station operating in Santa Clarita."
Above all, Perez treasures his rink's intangible qualities as community touchstone.
"We have kept a lot of kids out of trouble. We have kept a lot of kids off of drugs and alcohol," he said.
Meanwhile, the clock is ticking. As of Wednesday afternoon, "The liquidation is almost ready to go,"' Perez said, "and it will be done in short order. Once I take down the heart and the guts of the building – the rink glass, the compressors — it's not coming back."
Perez said, "People talk about the coronavirus as if life ended but the fact is life will resume."