Panel Discussion Delves into Ventura County's Slow Economy
Friday, February 21, 2020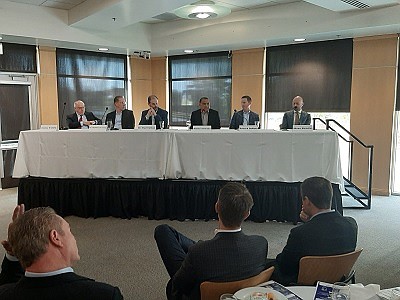 The Rotary Club of Thousand Oaks sponsored a breakfast Friday on the economic outlook for Ventura County and the city of Thousand Oaks, including the Westlake Village and Newbury Park submarkets. The event was held at California Lutheran University's Sports Center in Thousand Oaks.
After an introduction by San Fernando Valley Business Journal Publisher Charles Crumpley, Cal Lutheran Center of Economic Research and Forecasting Executive Director Matthew Fienup jump-started the morning with a talk about the continuing malaise affecting Ventura County. The outlook was unfortunately predictable because for the past five consecutive years, the county has been an economic flatline. But for the first time in 2019, the region saw a decline in population from a lower birthrate and "a large exodus from Ventura County" because of lack of jobs and affordable housing, and the impact of "two years of fires," Fienup said.
A panel moderated by Eagleson Arndt Financial Advisors Principal Vicki Arndt featured California Lutheran University Associate Dean and Professor at the School of Management Vlad Vaiman; Newmark Knight Frank industrial realtor Patrick DuRoss; Thousand Oaks Economic Development Manager Haider Alawami; and Tarantula Hill Brewery Co. property owner Shawn Moradian.
Vaiman said more housing, including workforce-friendly affordable housing, will not only attract individuals but companies to Ventura County. In a decade, he added, there will be "a 1.1 million shortage of people with higher education," which will place more demands and expectations on employees.
The challenge, he said, will be "how to bridge the talent gap despite the micro issues" and Vaiman had some suggestions, including seeing the government alleviate the student debt crisis, and academia and companies improving "the pipelines from colleges to workforces" through a variety of means. Vaiman singled out Haas Automation in Oxnard and The Trade Desk in Ventura as outstanding partners in this realm.
DuRoss gave an overview of Conejo Valley's hot industrial real estate scene. In Conejo Valley, Rancho Conejo Boulevard, Wendy Drive and Ventu Park Road comprises "our main industrial pocket," DuRoss said.
"Ventura County benefits most when we have businesses growing from the San Fernando Valley," he said.
"The future is biotech growth in Newbury Park," said Alawami, who commended Thousand Oaks' City Council for encouraging development, particularly in biotech, and rewriting code "just to make it easier (and) take the hurdles out of the way."
In residential building, Alawami discussed the hundreds of units — single-family homes, townhouses and mixed-use apartments — currently underway — with two other projects pending that would add another 514 units — towards Thousand Oaks' mandated goal of 2,600 potential units.
"We need to do that, otherwise we will be stagnant," Alawami said. "City Council is asking for more workforce units. … The problem is the lack of land and a lack of funding sources."
Commercially, Alawami and Moradian agreed that Thousand Oaks has a way to go.
"We have a lot of untapped opportunity," Moradian said, pointing out that when Thousand Oaks' general plan was initially created in 1970, it was scaled for a population of 200,000. As only 130,000 people reside in the community today, the property owner believes that the community was commercially over-planned.
"What we should do is add a lot of experiential retail," Moradian continued, deeming Tarantula Hill "just one small piece of the puzzle. Newbury Park has very little in terms of that." He added that it's not the matter of another store or restaurant but finding "uses that aren't currently here."