FDA Approves Ellume's At-Home COVID-19 Test
Wednesday, December 16, 2020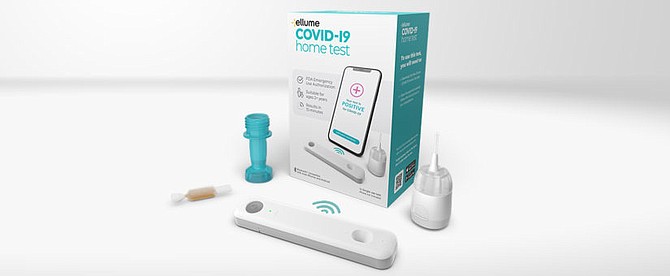 The U.S. Food and Drug Administration on Tuesday approved the first at-home COVID-19 test, developed by a biotech company with ties to the Valley region.

Digital diagnostics company Ellume Inc., which developed the test, is headquartered in Australia but has its U.S. offices in Valencia.

The $30 at-home test kit comes with a nasal swab and single-use Bluetooth-enabled test cartridge. It will allow people to test themselves for the virus without a prescription, Ellume said.

Data submitted to the FDA showed Ellume's test to be 96 percent accurate, compared to emergency lab tests available. The company was able to fast-track test development with a $30 million grant from the U.S. National Institutes of Health Rapid Acceleration of Diagnostics initiative.

Patients will need a smartphone to take this test, according to Ellume's statement. The test analyzer connects to the user's phone via Bluetooth and provides step-by-step instructions before displaying results. The entire process takes about 15 minutes.

The company plans to scale up manufacturing next year in order to deliver millions of tests per month. Ellume has yet to announce which retailers will carry the test starting next year.