Product Packaging Plant Expands in Thousand Oaks
Wednesday, August 19, 2020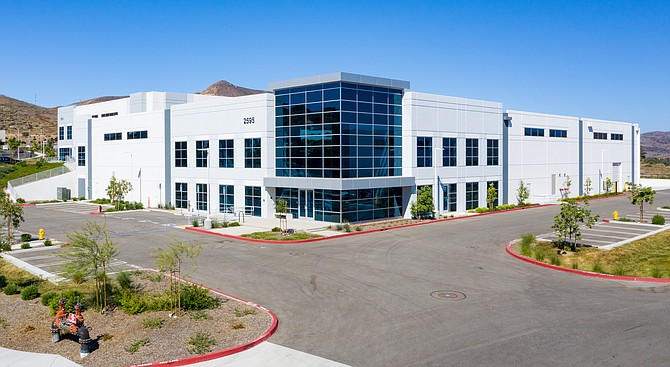 Minimus Products has signed a lease next door to its Newbury Park corporate headquarters, committing to 77,100 square feet at Conejo Spectrum Business Park in Thousand Oaks.
Calabasas-based Newmark Knight Frank Senior Managing Director Patrick DuRoss, who with partners John DeGrinis and Jeff Abraham, represented property owner Western States Technology in the deal, told the Business Journal that Minimus was drawn to the property, which, in its marketing, included half rent for the first year on a 10-year lease.
"We signed a long-term lease with Minimus Products," DuRoss said. "They are in the contract packaging and fulfillment business and have operated in multiple buildings in the Thousand Oaks area for many years, including the adjacent property to 2590 Conejo Spectrum."
Allen Trowbridge of Cresa Partners represented Minimus, which is based at 1260 Ranchero Conejo Rd.

NKF's DuRoss said that their client Western States' "great private ownership group" helped get this transaction done smoothly.
"We had a hunch that Minimus would need expansion space and knew that the landlord and tenant would get along," DuRoss said. "I've known their broker and the Shrater family, owners of Minimus, for a long time. They are all great people and great to work with so Allen and I set up a meeting several months ago for the two groups to meet so that in the event there was a future requirement for the building, there would be some rapport between the parties. That helped make for a smooth negotiation and great future relationship once Minimus decided they needed more space."
In a phone conversation with the Business Journal, Cresa's Trowbridge confirmed DuRoss' statement.
"This provided us with a great opportunity to expand right next door to their corporate headquarters," Trowbridge said.
While "the economics were attractive," the rent deal was not a driver, according to Trowbridge, who said that the company was simply looking for an "expansion of their existing operation of distribution" and having this property in such close proximity to its corporate headquarters was too ideal to pass up.
"It was an opportunity that represented itself (and despite the COVID period), the deal came together quickly and smoothly," Trowbridge said.
Another incentive for Minimus is the momentum of the Thousand Oaks industrial market.

"This property is on the same street where nine new industrial buildings were recently built and are all occupied by a variety of businesses," DuRoss said. "There is a vibrant feel to the area with a lot of jobs that were not previously provided a few years ago."
Among those still-drying industrial lease signatures in Thousand Oaks: Bennett Robinson of CBRE represented Barefoot Dreams in the leasing of 50,708 square feet at 2595 Conejo Spectrum St.; the freestanding building that is part of the 29-acre Conejo Spectrum Business Park. Team DeGrinis represented then-landlord Rexford Industrial in the March deal.
Also in Thousand Oaks: In July, a storage company assumed a 52,800-square-foot industrial facility at 1467 Lawrence Drive. Bram White, executive vice president in Daum Commercial Real Estate Services' office in Camarillo, represented the lessee in the transaction while NKF's DuRoss represented landlord PSIP Conejo Spectrum.

Most notably, Amazon.com Inc. established a presence on the Conejo Spectrum campus in 2018 when it transformed a 55,000-square-foot warehouse at 2405 Conejo Spectrum St. into a distribution center for Amazon Prime orders.