AeroVironment Lands $10.7 Million Drone Contract
Tuesday, April 7, 2020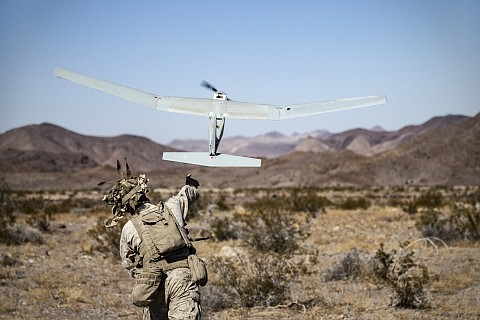 AeroVironment Inc. has landed a $10.7 million contract for its Puma 3 drones from the U.S. Navy and Marine Corps.
The Simi Valley aerospace manufacturer plans to deliver the drones later this month. The hand-launched Puma 3 AE has a wingspan of 9.2 feet, weighs 15 pounds and can operate for up to 2.5 hours at a range of up to 12.4 miles. It is used for tactical reconnaissance by military forces.
"Puma 3 AE is a combat-proven enabler of U.S. Navy and Marine Corps tactical operations, providing persistent situational awareness, expeditionary reconnaissance, surveillance and target acquisition, force protection and overwatch," Rick Pedigo, AeroVironment vice president of business development, said in a statement. "Its versatility, ruggedness and reliability in a wide range of operating environments – over land and sea – consistently provide the actionable intelligence warfighters need to proceed with certainty."
Shares of AeroVironment (AVAV) closed Tuesday down $2.42, or 4.2 percent, at $54.78 on the Nasdaq.