Solar-Powered Drone Takes First Flight
Monday, September 16, 2019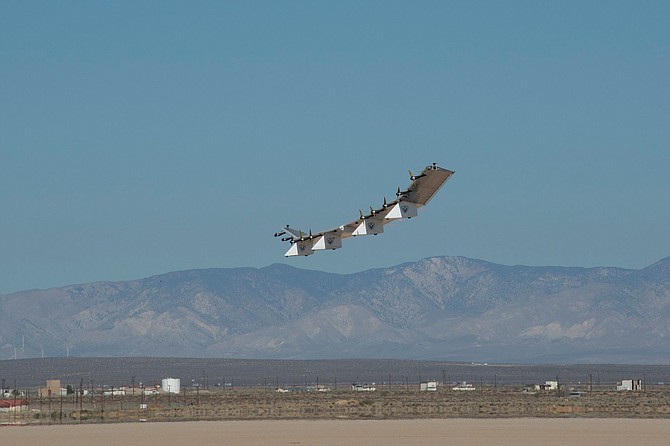 AeroVironment Inc. completed the first flight of its Hawk30 solar powered high-altitude platform-station drone at NASA Armstrong Flight Research Center in the Antelope Valley.
The aircraft is a project of a joint venture that AeroVironment, in Simi Valley, is part of with Japanese telecommunications giant SoftBank Corp., called HAPSMobile Inc.
The Hawk30 has a wingspan of 260 feet and is propelled by 10 electric motors powered by solar panels covering the surface of the wing. The aircraft is designed for continuous, extended missions of up to months without landing. It could have military and commercial uses.
AeroVironment Chief Executive Wahid Nawabi said that first flight of Hawk30, which took place Sept. 11, builds on more than 20 years of the company pioneering high-altitude platform-station, or HAPS, technology and only two years since forming the joint venture with SoftBank.
"We are the pioneer and leader in HAPS, delivering continued progress and demonstrated success," Nawabi said in a statement. "We look forward to achieving even greater success in flight testing, culminating in high-altitude, long-endurance flight demonstrations that will pave the way for the global commercialization of HAPS technology."
Shares in AeroVironment (AVAV) closed up $2.71, or more than 4 percent, to $63.59 on the Nasdaq on Monday.