City Managers Discuss Business, Homelessness Challenges
Friday, September 13, 2019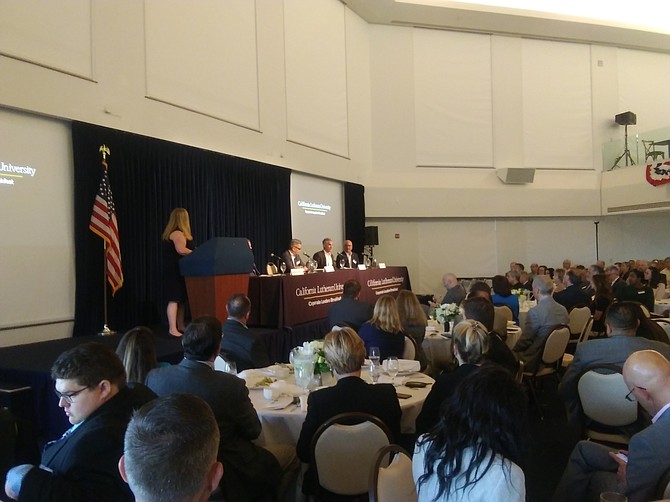 Four city managers of communities in the Conejo Valley area discussed their respective challenges and opportunities Friday morning at the first event in this season's Corporate Leaders Breakfast Series put on by California Lutheran University.
More than 200 attended the breakfast meeting at Ronald Reagan Presidential Library and Museum in Simi Valley. The city managers — Thousand Oaks' Andrew Powers, Oxnard's Alex Nguyen, Agoura Hills' Greg Ramirez and Ventura's Alex McIntyre – discussed everything from economic development and business partnerships to transportation, public safety and climate change mitigation.
Cal Lutheran's Center for Nonprofit Leadership Director Dena Jenson moderated the panel.
McIntyre described his complex role as "an incredibly rewarding job and an incredibly challenging job" while Nguyen admitted that working in a fishbowl under public scrutiny is difficult.
"Almost everything that we do we have to do out in the open and in the spotlight and often it is live streaming - scrutiny - in this day of social media with so much noise to wade through to (get to the important work)," said Oxnard's city manager.
In the areas of urban planning and development, Thousand Oaks' Powers discussed the challenges of channeling through the bureaucracy.
"We are trying to be responsive, and we're working with an elected board," Powers said, noting that the communities that have the advantage of being business-friendly and expediting approvals for new developments boils down to "the importance of relationships." He gave a shout-out to his mentor, former Thousand Oaks mayor and city councilman Andy Fox, who was in attendance.
Invevitably, the topic of homelessness was raised, and McIntyre outlined Ventura's "broad-based housing strategy," a diversity of housing models "that would attract companies and corporations to Ventura."
McIntyre mentioned the 60-bed homeless shelter opening in January to address about 10 percent of Ventura's 600 homeless population.

"We are looking forward to start to make a dent," McIntyre said.
Powers also discussed the updating of the city of Thousand Oaks' general plan, which, in part, is meant to address the ongoing housing crisis.
"I'm very excited, we are embarking on the process," he said, noting that on Thursday night, a related meeting attracted 150 locals.
"We are committed to an honest dialogue," Powers added, noting the toaks2045.org, which outlines the general plan and its mission.
Among the audience questions-and-answer participants, Dennis Washburn, the original mayor of Calabasas, asked the panel about addressing disasters such as fires.
"Everyone who works in a municipal (capacity) is a disaster response worker," Powers said of Thousand Oaks' readiness.
Ramirez said that the city of Agoura Hills has been in talks with the city of Los Angeles emergency agencies regarding fire suppression and "working with them on tech and ways to deal with fires," he said.
Powers discussed the updating of building codes and to guarantee fire safety versus the time it takes to respond to fire.
McIntyre ended the panel with a challenge to all of his peers, urging them to seek out those with the potential to become the next wave of city managers.
"The next generation needs to be groomed," McIntyre said. "That's my closing pitch."
The Cal Lutheran program was part of a lecture series intended to unite members of the business and civic communities. Still to come on the 2019-2020 docket: C5LA Executive Director Joseph Collins will talk on the organization's work to help teens from under-resourced communities become leaders on Nov. 8 in Woodland Hills; Santa Barbara legal expert Amy M. Steinfeld will address the growing cannabis industry on Jan. 30 in Santa Barbara; Limoneira President and CEO Harold Edwards will talk March 6 in Ventura; and Drew West of The Trade Desk will discuss managing the digital advertising technology firm's hypergrowth on May 5 in Thousand Oaks.