ServiceTitan to Occupy Former Nestle Space in Glendale
Monday, March 25, 2019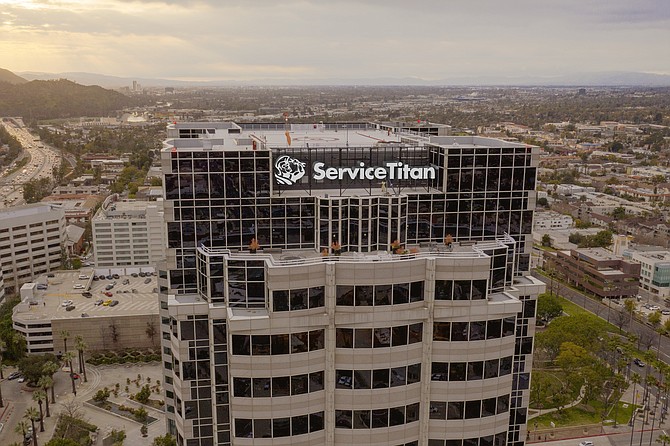 ServiceTitan Inc. is expanding into a Glendale office building once occupied by Nestle USA.
The tech startup will take 125,000 square feet, or about five floors, at 800 N. Brand Blvd., a building owned by Beacon Capital Partners. The space was formerly occupied by the Nestle USA headquarters. Also, ServiceTitan will put its name on the building.
The company develops and sells software used by electricians, plumbers and other home improvement professionals for scheduling, billing and organizing projects.
Ara Mahdessian, co-founder and chief executive of ServiceTitan, told the Business Journal the space was needed to accommodate the company's growth. The company expects to grow to 1,000 employees by the end of the year and go up to nearly 2,000 next year, he said.
To attract the best people the company needs be in the highest-grade office space with the best amenities and most productive environment, Mahdessian said.
"That requires a huge investment," he added. "Beacon has been a willing partner to make that kind of investment to create that ultimate work environment for the future home of ServiceTitan."
Conan Cotrell, managing director of Beacon Capital, said that the real estate firm will offer an amenity package that will include a new tenant lounge, new café, a refurbished fitness center with rooftop deck, a refurbished main lobby and new landscaping.
"We are confident that ServiceTitan's occupancy will help re-define this iconic building and we are happy to welcome them," Cotrell said.
About 71 percent of the building is currently leased, with about 150,000 square feet still open, or about six floors.
ServiceTitan will retain its current offices across the street at 801 N. Brand Blvd., where its lease runs for another four and a half years. It will begin occupying the new space at 801 N. Brand in the next few months.