HealthX Event Enjoys Its Fourth Year
Friday, April 26, 2019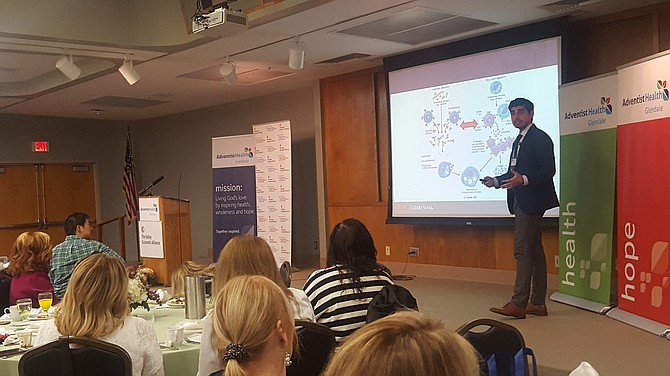 The Valley Economic Alliance hosted its fourth annual HealthX conference Friday morning, with roughly 90 members of the L.A.-area health care community in attendance at Adventist Health Glendale.
Topics, presented TED talk-style, included a glimpse into the future of cancer immunotherapy led by Dr. Yulian Khagi, hematologist and medical oncologist for Cedars-Sinai; an update on asthma treatments with Dr. Inderpal Randhawa, co-chief and program director, MemorialCare Miller Children's and Women's Hospital in Long Beach; evolving standards of breast cancer surgery with Dr. Dennis Holmes, breast surgeon and researcher, Adventist Health Glendale; and a dive into ADA compliance for websites with presenter Daryn Harpaz, founder and chief executive of ZenythGroup, headquartered in Los Angeles.
Khagi and Holmes spoke about T-cell therapy and cryoablation, respectively, to treat cancer. Cryoablation is used to treat certain cases of breast cancer, which involves using liquid nitrogen to destroy tumors and avoid body-changing mastectomies.
In some cases of cryoablation, Holmes said, the immune system is activated and destroys the remainder of cancer cells, which is what cancer immunotherapy aims to do.
"Pretty much any human being with an intact immune system can benefit from it. Immunotherapy can be theoretically applied to any patient, any cancer, at any stage," added Khagi. "That's why I think it's worth potential. It's something that we can use in patients even with poor functional status, or even more advanced cancers."
The event's four presenters took questions at the end of the seminar, with topics ranging from smog and its effects on young people susceptible to asthma, to the fact that 95 percent of websites today are not ADA compliant.
"The lawsuits are specifically around non-sighted users, and that's counting for a majority of the percentage. We'll see a higher percentage as processes become a requirement," added Harpaz.
Sponsors for the event included Adventist Health Glendale, MemorialCare and Cedars-Sinai.