Fernando Award Honors Bill Allen, Adds New Categories
Monday, October 8, 2018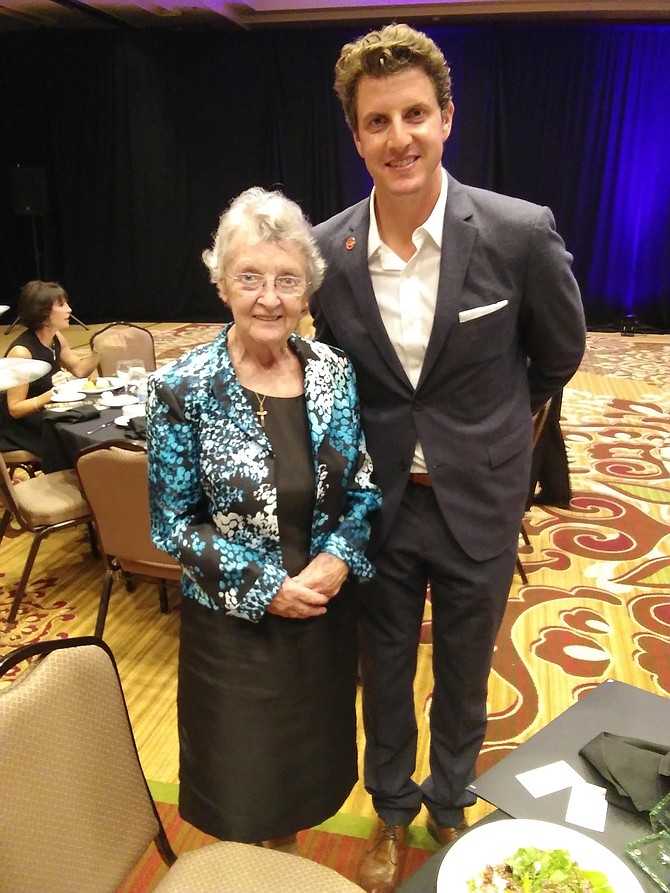 Los Angeles County Economic Development Corp. Chief Executive Bill Allen won the 2018 Fernando Award at a ceremony on Saturday night.
"Each and every one of you had an impact on my life," Allen told the audience of 300 of the Valley's most engaged citizens after accepting the award, which, for 60 years, has gone to a local leader for significant and longstanding volunteer work. "We couldn't have built the Valley Economic Alliance without their passion and commitment (but) there's a lot of work yet to be done."
Across six decades, there have been 750 nominees. Over the weekend, Allen became the 60th recipient of what is widely considered the most prestigious local award for volunteerism in the San Fernando Valley.
Allen competed against a distinguished pool of candidates. Fazio Cleaners owner Steve Fazio; Jeffrey Friedman, vice president of marketing at Dynamic Nursing; realtor Scott Silverstein of Lee & Associates; and UltraGlas Inc. Chief Executive Jane Skeeter rounded out the finalist roster for the award.
At the black-tie ceremony, held at Warner Center Marriott in Woodland Hills, the Fernando Awards Foundation ushered in a wave of changes. Most prominently, the Impact Awards recognized three outstanding individuals, teams of people or local businesses that engendered positive change through local community work.
This year's inaugural Impact Awards went to teacher and community organizer Sister Carmel Somers, Northridge Beautification Foundation leader Don Larsen and State Farm Insurance agent Gwyn Petrik, who is an active member of the Rotary Club of Woodland Hills and president of Soroptimist International of the San Fernando Valley.
The ceremony, helmed by Fernando Award Foundation Chairman Wayne Adelstein, also introduced its first-ever International Award, delivered to Yan Kan of Bel Air, who underwrote the 2018 Fernando event.
"To me, education and philanthropy are the two most important things in my life," Kan said at the ceremony.
Other program highlights included a video in memory of 2006 Fernando recipient Armand Arabian; and the entertainment of California State University – Northridge a cappela group CSUN Acasola, which performed a medley of Stevie Wonder and Bruno Mars.
David Honda, chairman of the Fernando Award Foundation, told the Business Journal that the proposal to create the new award category gestated for a few years before being endorsed by Wayne Adelstein and Dale Surowitz, other community leaders who serve on the foundation board. Surowitz wrote the qualifications for the new award, Honda said.
At the dinner table, Somers, who will retire in December from her role at Valley Family Center Counseling and Education and move back to her native Ireland, was greeted by Sen. Henry Stern, who stood by as last year's Fernando Award winner, Paul Davis, announced Allen as the award's 2018 recipient.
"It's an honor to be your neighbor," Allen told the crowd.