Report: Valley Hospitals Among Best in State
Wednesday, August 15, 2018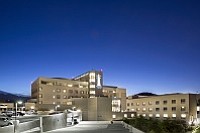 Several local hospitals were named among the best in the state on U.S. News & World Report's Best Hospitals list for 2018-2019.
Glendale Adventist Hospital in Glendale was ranked highest among the hospitals in the Valley Area, ranking No. 28 statewide and No. 15 among those in the L.A. metro area. The hospital also had high performance ratings in three of the 16 specialties that U.S. News analyzes, and for procedures related to congestive heart failure and chronic obstructive pulmonary disease. Its scores for colon cancer surgeries were also high, according to U.S. News.
"Adventist Health Glendale has a strong track record of providing high quality patient care, as made evident by this recognition," Alice Issai, president of Adventist Health Glendale, said in a statement.
Providence St. Joseph Medical Center in Burbank, one of several hospitals in the Providence Health and Services network to make the list, followed close behind. It ranked No. 16 in Los Angeles and No. 30 in the state; it had high performance scores in five procedures.
Others that ranked highly include Providence Holy Cross Medical Center in Mission Hills, which came in at No. 34 for California and No. 18 in Los Angeles; Glendale Memorial Hospital and Health Center, No. 43 in the state and No. 21 in Los Angeles; Kaiser Permanente Woodland Hills, No. 43 in the state and No. 21 in Los Angeles; and Providence Tarzana Medical Center, which tied with Kaiser Woodland Hills on the state and regional rankings.
U.S. News ranked more than 4,500 hospitals across the country for this year's list, which it compiles annually based on performance data.