THE AMERICANA AT BRAND SHOPPING CENTER RAISED THE BAR FOR BUILDING A 'TOWN CENTER' AMID THE SUBURBS OF THE SAN FERNANDO VALLEY.
Americana Dream
Monday, April 30, 2018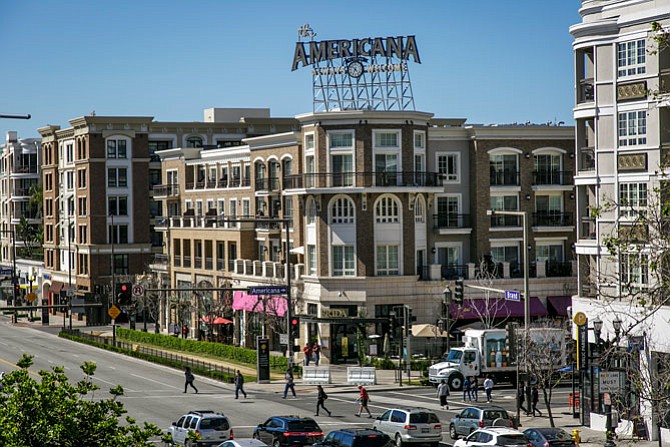 Caruso's Americana at Brand will mark its first decade on May 2. The popular outdoor shopping center —which alongside the Glendale Galleria anchors downtown Glendale's retail district — reportedly attracts nearly as many visitors annually as Disneyland. With its fusion of Main Street U.S.A. and Venetian architecture, promenades and fountains, and an old-fashioned trolley circulating around big brand stores, the family-friendly Americana sets the pulse in the commercial heart of the Tri-Cities.
"The foresight of the Caruso organization to do what they've done in Glendale actually has changed the DNA of Glendale," said David Josker, managing director of the Los Angeles North Region for CBRE Inc.
Annually, the destination draws more than 16 million visitors, according to Caruso Vice President of Operations Julie Jauregui.
"The Americana at Brand averages $1,600 sales per square foot, which makes it one of the top-performing shopping centers in the U.S.," she said.
Yet the shopping complex, seven years in the making, did not arrive without incident. Before its debut during the Great Recession, the project suffered several false starts with Glendale's economic development administrators and a number of lawsuits with the Galleria's Chicago-based parent General Growth Properties.
Whether or not developer Rick Caruso's Americana deserves the credit, downtown Glendale has come a long way since its sleepy pre-recession days, not only spurring more retail but also office and housing booms.
"The one market that has had the greatest evolution in the shortest period of time – it's Glendale," said CBRE Senior Managing Director Natalie Bazarevitsch.
Grove's sibling
Located on 15.5 acres at 889 Americana Way, the complex offers 475,000 square feet of retail space with six businesses anchoring 82 retail storefronts and 32 restaurants. It is often described as the sibling of Caruso's Fairfax District flagship, the Grove.
"We curate over 250 events annually, including our tree lighting, which draws thousands of guests each year to kick off the holiday season," Jauregui said, adding that about 20,000 guests attended Americana's inaugural Tree Lighting ceremony in 2008. Other tentpole events include Lunar New Year and Fall Festival celebrations, and summer movies and concerts.
A recent milestone — Khloe Kardashian's first-ever West Coast pop-up, Good American, was held at the mall in December.
"At all Caruso malls, they seem to strive to secure tenants that are avoiding the retail apocalypse, especially health, entertainment and fitness stores," California Economic Forecast Director Mark Schniepp said. "But also other unique events like live music and cooking classes, and office uses."
Yet at Americana, Caruso managed to incorporate housing into the mix. The Americana, which cost a reported $264 million in mid-2000s money, boasts 100 condominiums and 242 luxury apartments.
"It was one of the first projects that was mixed use with true residential above it," Josker said. "Over the last 10 years, as the workforce gets younger, more of that live-work-play concept has come into play."
One question Glendale's economic development team had for Caruso was whether the developer was ready for housing.
"That was one of the elements they were going to grow in their company," Philip Lanzafame, Glendale's director of community development, said. "Rick's modus operandi was to get it right. He had every incentive to make that housing work; to extend his company in another area."
According to Jauregui, Americana's luxury apartments were about 95 percent leased within the first year. "We were receiving rents 20 percent higher than the average rate, so essentially (the recession) really did not slow us down," she said.
William Boyd, senior managing director at Charles Dunn Co. Inc.'s Glendale office, considers Americana's apartments "the first of the significant residential housing." About 4,000 units have arrived in the aftermath of Americana's opening, with many yet to come online.
Day to remember
May 2, 2008 was a big day for the city of Glendale as the USC marching band performed "Conquest!" while Caruso, Lanzafame, Mayor John Drayman and other officials rode around the Americana at Brand on an old-fashioned trolley.

"It's a day that Glendale has not seen in its entire 100-year history and will not see for at least 50 years," City Councilman Ara Najarian told Los Angeles Daily News at the time.
Jauregui, who joined Caruso in January 2008 as the Americana's assistant general manager, recalled the retail center's opening day as "magical."
"In the end, we had over 1 million visitors opening weekend," said Jauregui, who was promoted to general manager of the Americana in 2009.
That trolley ride represented the end of long train for Lanzafame, today director of Glendale's Community Development Department, who had spent most of his time since 1999 helping shepherd Americana to the finish line.
"It was really special. We felt what we were providing was unique to Glendale," said Lanzafame.
Lanzafame, who grew up in the area, remembers Glendale as a bedroom community.
Pre-Americana, a kind of retail chaos had reigned at that site – what Lanzafame described as "a patchwork of things," including Gaucho's Village (now on Maryland Street), the Kennedy candy warehouse, a Big 5 Sporting Goods and Rite Aid and an excess of parking lots.
"There was no real rhythm to our downtown, not a very thought-out tenant mix," Lanzafame said. "We had relocated all the businesses. We had done our share to prepare the site. We did all the clean-up. There were a couple of gas stations. Caruso came in with pretty much a blank slate."
In the early 1990s, a group of business and civic leaders called Glendale Partners united to shape and fund a new downtown concept dubbed South Glendale Community Plan. A crucial subset of that blueprint, the Downtown Strategic Plan, won approval in 1996, and part and parcel with that plan was the Space 134 Project or "town center."
The search for a developer began circa 1999-2000. Among developers, Lanzafame remembered a firm then known as Caruso Affiliated was one of three finalists and, originally, was not the front-runner.
Donahue Schriber Realty Group, then-owners of the Glendale Galleria, originally set out to create Galleria 3, which never materialized. Miami-based Lennar Corp. also had a plan but dropped out of the game at the last minute.
In the spring of 2001, Glendale selected Caruso.
"We thought that the Caruso group was at a stage where they were ready to explode. Rick had some great creative and new and fresh ideas. They had the Grove under construction," Lanzafame said.
Because of project opposition engineered by General Growth, which purchased the Galleria in 2002, it took seven years to develop what the Glendale Partners referred to as "town center."

"We did not approve a concept or agreement until (spring) 2004," Lanzafame recalled. "We had to negotiate an agreement. It did take a long time."
However, once the lawsuits had been resolved, the Americana's rise went quickly. Caruso broke ground in July 2006 and the shopping center opened 22 months later.
Midas touch?
According to Rick Caruso, retail is evolving into a hybrid of traditional and e-commerce. Earlier this month, the developer shared with CNBC his contrarian view that Amazon.com and other e-commerce giants have been good for brick-and-mortar retail, spurring them to adapt and evolve.
"Retailers are suffering because they are stuck in an environment where the consumer does not want to go," Caruso said.
Because of this challenge, retail has shifted into a new model in which companies such as Amazon recognize "the social interaction with their customer; (that) the sense of discovery and the sense of experience is critical to an overall retail strategy" and thus are establishing their own brick-and-mortar footprint.
Caruso, who founded his real estate firm in 1987, certainly has a winning formula for an experiential consumer destination. In an email to the Business Journal, Green Street Advisors spokesperson Katie Clemons said her real estate research firm ascribes "an A++ proprietary mall quality grade to the Americana at Brand mall in Glendale. There are fewer than 40 malls of the 1,100 tracked in Green Street's proprietary mall database that hold this high of stature."
By any metric, Caruso is considered a master of the retail town center. Based on sales per square foot, he is the only U.S.-based developer to land more than one property on Green Street's list of global top 15 shopping centers — with the Grove and Americana.
CBRE's Josker, who briefly worked for Caruso circa 2005, got to see the developer in action first-hand.
"He's a visionary," Josker said. "(With Caruso's projects,) there's not an extreme focus about leasing every inch of the product, but creating an environment where someone will come and stay."
Caruso currently has more than $1 billion invested in such imminent projects as a $200-million, 16-acre Rosewood Miramar Beach resort in Montecito and Palisades Village, an outdoor retail environment with a multiplex in Pacific Palisades.
In addition to Americana, Caruso retail centers include the Commons at Calabasas; Promenade at Westlake; Village at Moorpark; Lakes at Thousand Oaks; and Encino Marketplace.
"I'm not entirely convinced that Caruso malls have been stimulating of the submarkets they are located in," Schniepp said, pointing to Caruso's Lakes in Thousand Oaks. "Not a robust submarket economy there. And there have been many vacancies in the Promenade (at Westlake) through the years with myriad tenants through that turnstile."
Yet no one questions the success of the Americana and its impact on the East Valley economy.
"We made a good decision in selecting Rick Caruso," Lanzafame said. "He stuck with his vision (even as the economy crumbled). You've got to give him credit for that. I'm sure it was a lot scarier for him than for everybody else."