HOSPITALITY: TRENDY MAKEOVERS CONTINUE AT VALLEY-AREA LODGINGS.
Corporate Hotels Loosen Up, Go Boutique
Monday, May 13, 2013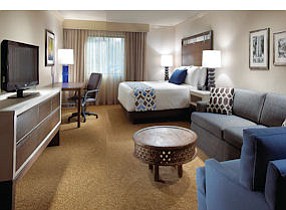 Boutiques have been all the rage in the hotel industry for more than a decade.
And in the greater San Fernando Valley, the boutique boom isn't over. Independent, upscale hotels continue to open their doors, claiming to offer a more luxurious and unique experience than corporate-flagged lodgings.
Take the Anza, which is No. 40 on the Business Journal's list of largest hotels ranked by number of rooms.
The Calabasas boutique, purchased last year by Los Angeles real estate investment firm Channel West Group, is set to open June 1 after a top-to-bottom renovation. The 122-room hotel was built in 1987 and was previously a middle-market Country Inn & Suites.
Steve McKenzie, a managing partner at Channel West, said the firm invested more than $6 million in the revamp.
"We tore out everything," he said. "We wanted something more imaginative than a conventional corporate setup."
As part of the renovations, the Anza will feature a different interior decor, including all-new furniture in each room, and an upgraded pool, complete with new cabanas and fire pit. The hotel is also going pet friendly with some rooms set aside for guests with animals. There will be an outdoor pet water station and walking area.
Room rates reflect the money invested. While some rooms will go for just $100, the three-bedroom suite, which has a full living room and kitchen, has a rate of $300 a night. That's a big change from its days as a Country Inn, where a room could be had for less than $100.
In Thousand Oaks, the Palm Garden Hotel has recently undergone a major renovation as well.
Real estate investment firm Selvin Properties bought the 150-room hotel last year. The Westlake Village company put more than $2 million into turning around the aging property, which ranks No. 25 on the list.
The hotel replaced an out-of-date restaurant with a trendy gastro pub called Brendan's Irish Pub, changed all the room carpets and installed marble in the lobby, said Harry Selvin, the company's principal.
The Palm Garden also has rooms set aside for those traveling with pets, and outside it installed a chess set by the pool that features 12-foot-tall pieces. Room rates start at about $100 and can hit almost $300 for a night in the Hollywood Suite, which has two bedrooms and an entertainment room that Selvin said includes a pool table once owned by George Burns.
"We replaced it all, piece by piece," Selvin said. "This is a totally different experience than a chain."
Still, for all their trendiness, boutique hotels do not necessarily have a built-in advantage over corporate lodges, which offer incentives and a predictability some weary travelers love.
"Everyone is brand loyal," said Jeff Lugosi, senior vice-president at PKF Consulting in Los Angeles. "Business travelers get points, which make corporate hotels more attractive to them."
Chain hotels own all the top 10 spots on the Business Journal's list.
The Marriott Burbank Airport Hotel, flagged by Marriott International Inc. of Bethesda, Md., ranks No. 1 on the list and has been in the top two slots for more than 10 years. The hotel, owned by New York real estate investment management company Westbrook Partners, has 488 rooms, a cocktail lounge, two pools, a hot tub, a fitness center and 1,200 parking spaces. In addition, there are Daily Grill and Starbucks outlets on site.
General Manager Richard Sandoval said a hotel like the Marriot is designed for a different customer than a boutique hotel. They feature corporate meeting spaces that boutiques lack but are often required by business travelers, a demographic his hotel is focused on.
"The depths of offerings here can't really be matched by a boutique," he said. "We also have the tremendous advantage of household recognition."
Despite that, Lugosi said the boutique market is showing resilience, though that varies by location.
"It's always been market by market," he said.
---