PETER DERYCZ USED TO BE A 'LIBRARY SLAVE' IN COLLEGE. NOW, HIS RESEARCH SOLUTIONS DIGS UP RESEARCH PAPERS FOR TECH COMPANIES.
Scientific American
Monday, March 18, 2013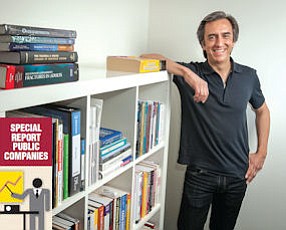 For a self-described starving student and "library slave," Peter Derycz has done very well for himself. After building and selling one information retrieval service, he now runs Research Solutions Inc., an Encino company that locates scientific articles and sells copies or electronic files of the articles to biotech companies, law firms, aerospace and auto manufacturers and other technology-based companies. Derycz recently changed the company's name from Derycz Scientific to better communicate the company's mission. The company, which trades over-the-counter, lost $6.6 million on $43 million in revenue last year, but has turned a profit over the last two quarters. Research Solutions has a U.S. subsidiary called Reprints Desk and a French one called Techniques Appliquées aux Arts Graphiques. It employs about 100 people. Derycz owns about 23 percent of the outstanding shares, while Bristol Capital, a Westwood investment firm owned by his brother-in-law, controls nearly 28 percent. Derycz met with the Business Journal at his offices in Encino to discuss the costs of running a publicly traded micro-cap company, the joy of making customers happy and his professional evolution from student to information entrepreneur.
Question: Exactly what services does your company provide?
Answer: A lot of organizations use scientific and medical information to develop products, manufacture them and market them. To do that, they need access to scientific literature. We find the articles and sell them copies.
Can you give an example?
Take pharmaceutical companies. They have teams of scientists who read articles to make sure they aren't repeating experiments already done, or find out the results of other people's experiments. In the manufacturing process, they need to know the best methods for manufacturing. Then during the regulatory process, they gather a lot of literature and feed that data to the FDA. And once the drug comes out on the market, they have to monitor articles about their product.
Do they use it to sell?
Yes, pharmaceutical companies have sales reps that attend medical conferences. If you want one electronic copy of an article for a scientist, great. If you want 10,000 printed copies for a medical conference, we'll get you those as well.
If people can just use Google and find articles, why do they need your service?
Three reasons. First, about 30 percent of scientific literature has not been digitized. Second, there is a lot of stuff behind pay walls. Third, even if everything was free on the Internet, it takes time to get it. If I sent you a list of 50 documents, how long would it take you to conduct 50 Google searches, drill down on the results pages, print it out and mail the hard copies? Part of the service we provide is time-saving.
How many articles do you have in your library?
We don't have a library. Publishers own the articles; we make deals with them for access. In the history of scientific publishing, there are about 70 million articles. The publishing rate today is about 700,000 articles per year added to the body of mankind's scientific knowledge.
So how many articles do you have access to?
Our claim is that if it has been published, we'll track it down and deliver it to the customer. We have cases where a client asks for an article published in 1847 in the "Philosophical Transactions of the Royal Society." We'll track it down and deliver it.
Do you ever read any articles?
Once in a while I'll take a peek. When you have a journal in your hands and you see an interesting headline or graphic, it's natural. But I'm not a scientist. I'm a businessman with an interest in science.
How did you get into the information business?
I was a starving student at UCLA. To make a living, I became a library slave for the doctors and researchers on campus. They didn't want to spend time in the library, so they would tell me, "I want to know about this subject." I would go to the library and ask around, and I got good at it. I learned how to use bibliographic databases.
Don't office assistants perform that work?
Well, I started doing this work on a work-study grant. When the grant ran out, I decided to find new customers. I would spend Sundays walking around the UCLA campus putting up signs that said, "If you need to know something about anything, call Peter." I got calls from journalists, lawyers, students – everybody on the planet.
How did you charge?
I took a law firm approach. I charged for my time, plus costs for photocopying.
How did you build up the client base?
What happened is they would read the articles I provided, and then call me back. Not with another question, but they would read the bibliography at the end of the article and want me to get more interesting articles. So the second and third calls generated more business.
How did you grow the business?
I ended up hiring people to help. I had a motorcycle and would go back and forth between the UCLA library and a little office in Westwood. Over time I dropped the "question-answer" offer and just focused on scientific articles because I could automate it, systematize it and price it by the piece instead of the hour.
How did you grow the business beyond UCLA?
The turning point in my life was when I graduated. I already had a bunch of customers. I had to decide to go to grad school or continue to answer the phone. It was a quick decision because I couldn't stop answering the phone.
What happened to that business?
I turned it into a company called Infotrieve. I grew it to about a $32 million company. I sold it in 2003 to a French private equity firm.
Can you tell how much you sold it for?
No. But the number was all good. I could afford to take a couple years off.
How many employees did it have?
More than 200.
After Infotrieve, what came next?
I built that company to last, and it's still a great company. But my head kept spinning. I felt there was still work to be done in the industry. I started a company called Reprints Desk in January 2006.
How did you finance it?
Family seed money. My sister, my brother-in-law, and a few other people. My brother-in-law runs a fund in Westwood called Bristol Capital. Some of the employees there invested.
Why did you go to your family when you could have used your own money, or professional investors?
It was an experiment that we discussed in family circles. We decided to give it a try as a group.
How did you go public?
We started Reprints Desk with a few hundred thousand dollars. Within nine months, we had our first $1 million in sales. We said, "Let's raise some money and ramp up the business." At the time, it made sense to bring in investors, so we sold shares. We needed liquidity for the investors.
Did you stage an IPO?
No. We created a holding company. We contributed Reprints Desk and investors contributed dollars to the holding company. Some of the investors were familiar with small-cap and micro-cap markets. They helped us do a self-filing.
Did the strategy work?
It worked out well for us because we did raise additional capital.
Did Reprints Desk change into Research Solutions?
Well, we took Reprints Desk, which is the operating company, and the money we raised from the first stock issue – about $4 million – and put both into a holding company called Derycz Scientific. A few weeks ago we changed the name from Derycz Scientific to Research Solutions. It's still the holding company.
Why did you change the name?
To better reflect the mission. It's much more descriptive and it's easier to remember and pronounce. No one could ever figure out how to pronounce Derycz Scientific – not good from a marketing standpoint.
You said you started your new company because there was "work left to be done." What is that?
Speed of access. In the old days, getting hold of some these documents took a week or two. With Infotrieve it got down to a day or two. At Research Solutions, we have turned delivery times into hours and minutes.
Does Research Solutions or your French company handle articles in languages other than English?
No, because after World War II, most scientific publishing converted to English. Personally, I like languages. My wife is French, we speak French at home. My mother emigrated from Mexico; I speak Spanish every day. My dad was from Ukraine, so I learned Russian. I speak multiple languages, but the language of science is English.
So how do you pronounce your name?
Derr-itch. It's a unique name that comes from a small village in the Ukraine, with a Polish spelling.
How did you get that name?
My father emigrated from Ukraine. He had a nasty life. He was taken by the Germans, then joined the French Foreign Legion. He was in Vietnam before the Americans ever got there. He ended up coming to the states and became a machinist.
And your mother?
My mom emigrated from Mexico. She was a telephone operator, and they told her if she learned English she would make more money. My parents met in an English class. Next thing you know, they married, my sister and I were born. Next thing you know, they were divorced and my mom moved us to Mexico.
Did you grow up Mexican?
I lived four years in the small village of Tulancingo, Mexico. We moved back so I went to high school here. I went from a small Catholic school where the teachers were nuns to an American high school where everyone was smoking weed and listening to Led Zepplin. Big shock.
What did you learn from that experience?
No matter how horrible or good things may look, it doesn't matter. You have to take risks. I was forced into situations I wasn't supposed to be in. I realized that once you are in them, you don't die. I learned how to take risks and bear the consequences.
How did that translate into business?
I'm willing to imagine something and go after it, regardless of whether it makes sense or not. If you analyze all possible outcomes, you'll find most are negative. So I don't do things objectively. Introtrieve would never have been possible if you analyze all the pros and cons. If you're a risk-taking personality, you only focus on the pros starting out. That gives you the emotion that carries you a long way.
So tell me about Research Solutions. How is running it as a public company different than a private one?
My estimate is that being public for a small mirco-cap company costs about $500,000 a year. So that's half a million we don't have to put back in the business.
Why aren't your shares more liquid?
We started out with 43 initial investors. Today we have about 350, so we have spread out a bit. There is not a lot of liquidity today, but we feel we are early in our lifecycle.
What's the plan?
We were privately held first, we got on the bulletin board second, and then as we grow, we will go to Amex or Nasdaq. That's the trajectory.
How are you doing right now?
We've burned a lot of money, but we built a company. Now we have had two quarters of consecutive profit.
What can other entrepreneurs and CEOs learn from your company?
Keeping customers happy. We aren't talking about the best technology or the best service or the most aggressive accounting department. There's pressure to focus on investors or the company's story, but at the end of the day, what makes a business is customers. If you are a startup, find your first customer and listen to him. Then find a second customer. It creates a virtuous cycle. If you make someone happy, it makes you happy. It gives you both a certain energy.
Why is your headquarters in Encino?
Both my companies started in Westwood. UCLA is a great place for a startup. We eventually moved to Santa Monica. The Westside is extremely congested and it's not friendly to business. We looked around and found more opportunity in the San Fernando Valley. The prices here are much more affordable. I get home faster from Encino to Westwood than from Santa Monica to Westwood, even though they are next to each other. It's all those people trying to get on the 405 Freeway.
So I take it having time at home and keeping a healthy work-family life balance is important.
It's difficult because I'm a hands-on dad. Basically, the way I balance it is I always made sure I started a company where I lived. Being close geographically was important in the early days. Now we are very virtual company, so I can work from a room at the house some times. The most difficult part is I spend a lot of time on the road traveling to visit customers and suppliers.
What's your next challenge?
I turned 50 in June. I've never been an athlete. I imagined it was possible to become a triathlete. I just registered for the Malibu Triathlon. Now I train rigorously. I like to think about business problems while I'm running.
This interview has been edited and condensed for clarity and space reasons.