LENDING: 1ST ENTERPRISE RAMPS UP WOODLAND HILLS OFFICE OPENED IN SPRING.
Buttoned-Down Bankers Hitting Valley Streets
Monday, December 9, 2013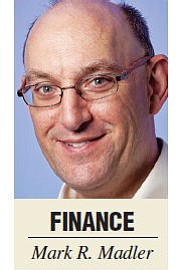 A low-profile business bank is raising awareness by putting more bankers on the street.
1st Enterprise Bank in Los Angeles is hiring more bankers at its Woodland Hills office and plans to offer more services. The office opened in the spring for loan production only.
The bank serves family-owned businesses that have revenue between $5 million and $50 million annually with an emphasis on the retail, professional services, manufacturing and distribution industries, said Trevor Morris, a senior vice president.
"There is ample opportunity for that space in the Valley," Morris said.
Bank executives would not disclose the amount of loans made from the Valley office. By the end of 2014, the branch has a goal of $50 million in combined deposits and loans.
Morris is one of the original hires for the Valley location. Recently, Jill Schulberth joined as a vice president and senior relationship manager, and Francis Lim as vice president and relationship manager. Karen Brown, a regional vice president, splits her time between the Valley office and the headquarters. The new hires will be dispatched to visit bank clients across the Valley.
As a business bank, 1st Enterprise does not put its branches on the ground floor of office buildings. The Valley office, for example, is on the 18th floor of a high-rise in Warner Center. It is centrally located and doesn't have a large footprint on purpose, part of a strategy to get the banking reps out in the field.
"We bring the bank to the customer," Brown said.
The value proposition of 1st Enterprise to set it apart from other banks is creating connections between the bank's decision- makers and the client business owners, Morris said.
1st Enterprise was founded in 2006 by John Black, chief executive, and K. Brian Horton, president, who used to work for Mellon 1st Business Bank in the Los Angeles and Orange County offices, respectively. An office in Irvine opened in 2007 and one in Ontario in 2009.
For the third quarter ending Sept. 30, the institution reported net income of $1.3 million (33 cents a share) compared with net income of $608,000 (15 cents) in the same period a year earlier. Assets increased 11 percent to $731 million.
1st Enterprise shares trade on the over-the-counter market.
Wealth Team Grows
David Seery has joined Lamia Financial Group LLC in Thousand Oaks as a client service specialist.
Seery will work in support of the wealth management team. He is a 2012 graduate of California State University, Channel Islands and currently taking graduate-level coursework to earn a certified financial planner designation.
"With David's strong background in client service and detail-oriented nature, he's poised to take on a significant role in helping clients with their short- and long-term financial goals," said Christopher Lamia, principal at Lamia Financial, in a prepared statement.
Prior to joining Lamia Financial, Seery had been a personal banker with California Republic Bank.
Lamia Financial Group is a financial planning and wealth management firm with expertise in investment management, tax planning, asset protection and charitable planning.
Profitable Quarter
Mission Valley Bancorp reported strong earnings for the third quarter.
The Sun Valley holding company, which operates Mission Valley Bank, posted net income of $1.2 million in the quarter ended Sept. 30, compared with $463,000 in the same period a year earlier.
Assets rose 9.3 percent to $269 million from a year earlier. Deposits rose 13 percent to $230 million due to improvement of the asset quality of the bank's portfolio.
Contributing to the third quarter earnings were growth in specialized lending and merchant bankcard processing, and streamlined operations that cut costs by $477,000 during the quarter, said Tamara Gurney, chief executive of Mission Valley.
"We continue to see positive indicators throughout the business communities we serve," Gurney said in a prepared statement.
Stronger Union
Adam Hollinger joined the consumer lending group in the Agoura Hills office of Union Bank as a mortgage consultant.
Hollinger, a 10-year banking industry professional, will assist clients in Los Angeles and Ventura counties. He will report to Mike McCormick, vice president and regional manager.
"I am confident that Adam's expertise and commitment to fostering client relationships will help support the overall growth of the consumer lending group," McCormick said in a prepared statement.
Prior to joining Union Bank, Hollinger was a loan officer with Pennymac and Countrywide Financial and a personal financial representative at Washington Mutual.
Staff Reporter Mark R. Madler can be reached at (818) 316-3126 or mmadler@sfvbj.com.