CONSTRUCTION: SHARES OF SYLMAR FIRM SLIDE DESPITE POSSIBLE HUGE CONTRACT.
Rival Blows Whistle on Tutor-Perini Rail Award
Monday, April 29, 2013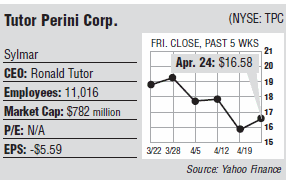 Despite a pair of major announcements in the last two weeks, shares of Tutor Perini Corp. have lost ground, as investors wait to see if slated new projects will come to fruition.
Earlier this month, the Sylmar construction firm received front-runner status as the low bidder for a high-profile project for the California High Speed Rail Authority. The bid, which came in at $985 million, would have Tutor lead a joint venture to build the first stretch of the train in the Central Valley between Madera and Fresno.

In addition, the company is the low bidder, at $840 million, for a contract from the San Francisco Municipal Transportation Agency to construct phase two of its Third Street Light Rail Program.
Yet on the date of the first announcement, April 17, shares dropped about 2.1 percent. The next day, shares fell another 2.7 percent. Shares edged back up in the last week, but are still down from its 52-week high of $19.38 on March 27. They closed at $16.58 on April 24.
John Rogers, an analyst at D.A. Davidson & Co., an investment firm based in Great Falls, Mont., said the company's prospects should shoot up if the two contracts go through.
"Tutor Perini is a very attractive stock. They have the potential to benefit from an improving construction market," he said.
But working against Tutor is a controversy surrounding its state rail bid.
The group of Tutor Perini, along with Parsons Corp. of Pasadena and Zachary Construction Corp. of San Antonio, recorded the lowest technical score among the five bidders, based on safety, design, engineering, scheduling and other factors. The top technical score belongs to Spanish firms Ferrovial S.A. and Acciona S.A. of Madrid, which bid almost $1.4 billion for the contract.
The original process, agreed upon in March of last year, would have seen Tutor eliminated in a first-round cut based on the technical evaluation alone, ignoring the price tag. But in July, the rules were changed and Tutor's joint venture was allowed to proceed in the process.
Rogers expects the state contract to be given to Tutor Perini, despite the controversy. He equated the scuttlebutt surrounding the high speed rail award to "sour grapes" and said it was a normal occurrence with large, high-profile builds.
"With builds like this, there are always questions and complaints," he said. "But the prospect for construction activity is improving."
Jorge Casado, director of investor relations for Tutor, said the projects would be great for the firm.
"It will be a nice boost to our backlog once it comes in as an official award," he said. "But both awards are still pending."