DEVELOPMENT: VENTURA COUNTY COULD HAVE FIRST TRACT SINCE BUST.
Clear Path for Housing Plan
Monday, April 15, 2013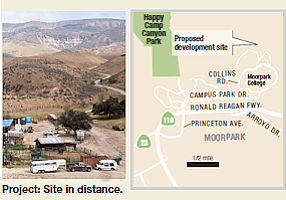 Just in case further proof is needed that the housing bust is officially over, look no further than the Moorpark hills.
The owner of more than 3,000 acres just outside town is proposing a development of hundreds of luxury homes on property not far from Moorpark College – in what could be the first suburban subdivision in Ventura County since the bust...
Are you a subscriber? Sign In