LESSONS: VALLEY INSTITUTIONS ADDING SPACE, ONLINE COURSES AND INTEREST-BASED TRACKS.
Private Schools Compete with Adjusted Business Plans
Monday, March 19, 2012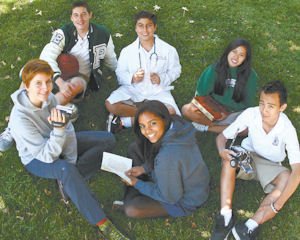 In a slow economy, as fewer families can afford to give their children a private school education, some Valley area schools are making business decisions they hope will help them to weather the storm and stay competitive among a smaller pool of students.
Private high school tuitions can range from $6,000 to $31,500 per student each school year, according to the San Fernando Valley Business Journal survey of area private high schools. For the price, private schools want to offer students more educational opportunities than public schools — a more rigorous curriculum, a higher acceptance rate from prestigious universities, in addition to a religious or cultural education.
Two local schools are planning to expand to secure their long-term plans for growth. And at least two local schools are introducing new concentrations, or interest-based tracks, such as technology and engineering, medical health and media studies.
Ten-year-old New Community Jewish High School, the third-largest Jewish high school in the country, is in the process of purchasing a two-story building on the Bernard Milken Jewish Community Campus in West Hills. Currently, the school rents space at a synagogue about three miles away.
With a larger building, they hope to expand enrollment from its current 361 to about 450, said David Marcus, business manager for the school.
The Hillcrest Christian School (K-12) in Granada Hills has aquired LA Baptist Middle/High School in North Hills. The purchase of the campus is expected to include staff and students. LA Baptist currently has about 500 high school students, which potentially increases Hillcrest's high school population by about 40 percent. There are also plans to add a pre-school, said Rick Donnelly, director of development.
Other area schools are finding new ways to cater to students' educational interests.
For Village Christian Schools, a non-denominational Christian school in Sun Valley, this year's freshmen are choosing one of six concentrations that will determine their elective courses in grades 10 through 12. Online courses that add to the school's elective courses have helped make the program affordable.
"There is this new (online) curriculum available that wasn't here yesterday," said Tom Konjoyan, head of schools at Village Christian, which offers Kindergarten through 12th grade. "Five years ago you couldn't do this; today you can."
It's a "unique and distinctive program for kids at a much lower price point," he said. "That's our niche in the marketplace."
The model takes the standard core curriculum classes that meet University of California (UC) and California State University (CSU) requirements, and complements it with a set of elective courses that go deeper within a particular area of focus. Colleges today are looking for more than just well-rounded applicants. An "angular" education makes a student stand out, he said.
Not all private schools are introducing online courses, but more schools added interest-based programs this year.
Providence High School, a co-ed Catholic school in Burbank, introduced a new technology focus program, which grew out of its robotics club. The four-year curriculum includes computer science and programming classes for games and mobile devices.
Currently, there are about 60 students in the program, about a third are freshmen.
---
Download the 2012 VALLEY'S LARGEST PRIVATE HIGH SCHOOLS list (pdf)
---
Download the 2012 VALLEY'S LARGEST PUBLIC HIGH SCHOOLS list (pdf)