HEALTH: SOME QUESTION IF CHANGE WAS SELF-SERVING.
Prime Donates Sherman Oaks Hospital to Foundation
Monday, April 2, 2012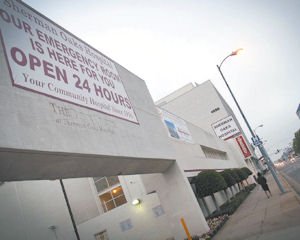 Prime Healthcare Services Inc., the for-profit hospital system that's been the subject of multiple federal and state investigations, has donated Sherman Oaks Hospital to its nonprofit foundation.
The move, considered unusual in today's health care industry, has some observers questioning whether the company's motives for the change are more self-serving than beneficial to the community — especially in light of allegations that have been raised against the company, including fraudulent billing practices.
Nonprofit status spells immediate tax advantages for Prime, including exemptions from federal, state and local property taxes. But the move also requires the hospital to offset the tax advantage with community benefits and it subjects the hospital to greater regulatory scrutiny. The state attorney general now has oversight of the hospital.
Sherman Oaks is the third hospital that the for-profit Ontario-based Prime Healthcare Services, has donated to the nonprofit Prime Healthcare Services Foundation. While the two entities are separate, both are controlled by Dr. Prem Reddy, chairman and founder of the Prime chain. Prime donated Encino Hospital Medical Center to the foundation on December 31, 2009, and Montclair Hospital Medical Center on October 1, 2009, according to the California Department of Public Health. That leaves Prime with 13 for-profit hospitals in its system.
Prime officials say the reason for the decision is philanthropic. Critics and outside observers say the deal is most probably motivated by tax advantages that come with nonprofit status. Union officials question whether Prime might be donating hospitals to the foundation to shield the for-profit company and its owners from potential liability for alleged misdeeds.
To be sure, the vast majority of U.S. hospitals today are nonprofit, and many provide significant and meaningful community benefits. It's also not unusual for a company, health care-related or otherwise, to make certain business decisions based on tax implications. At the same time, though, some argue that hospitals could do more in exchange for their tax exemption and that the rules guiding nonprofit hospitals today simply are too loose.
Community benefit
Prime Communications Director Edward Barrera said the decision to make Sherman Oaks Hospital a nonprofit facility was a philanthropic one by Dr. Reddy.
"He wants his legacy to be these nonprofit hospitals that are community assets," Barrera said. (Dr. Reddy was unavailable to be interviewed for this article.)
Bob Bills, CEO of Sherman Oaks Hospital and Encino Hospital Medical Center, said the Sherman Oaks community will benefit from the decision.
The 153-bed facility now will be able to do more community outreach and will benefit from additional resources, Bills said. Prime plans to invest $5 million over three years in an earthquake retrofit, which is required by state law, new medical surgical beds and an improved emergency room, he said.
Records filed with the Office of Statewide Health Planning and Development (OSHPD) show that Sherman Oaks Hospital performed $14.8 million in charity care in 2010, the latest figure available. That hospital had gross revenues of $256.7 million; net revenues of $72.8 million and net income of $4 million in 2010.
Encino Hospital, by contrast, performed charity care worth $773,102 in 2010. The hospital had gross patient revenues of $200 million that year, net revenue of $51.1 million and a net income of $2.6 million.
While Prime officials say decision to convert the hospitals were driven by benefits for the community, critics and outside observers say the deal is most probably motivated by federal, state and local tax exemptions that come with nonprofit status. Plus, by donating the hospital to its Foundation, Prime — the for-profit company — may also have gained a significant tax deduction, they say.
More nonprofit hospitals today are changing their institutional status to for-profit, said Gerry Hinkley, a prominent health attorney and partner with Pillbury's San Francisco office. Donating an entire hospital to a foundation is rather rare, he and others say.
"The trend is nonprofits converting to for-profit," Hinkley said. "Going the other way is less common." Donating a hospital to a nonprofit foundation or charity also is unusual, he said, noting that typically a hospital would be sold, not donated.
Property records show the hospital's Jan. 3 switch to nonprofit status came just four days after Sherman Oaks repurchased the two-story, 133,413-square-foot facility from Medical Properties Trust Inc., a real estate trust that owns many Prime hospitals.
Prime Healthcare Services Foundation's Form 990 showed that in 2010, Prime Healthcare Services Inc. — the for-profit hospital operator — made a $64.8 million contribution to the Foundation while Dr. Reddy, made a $20 million contribution to the foundation.
Barrera acknowledged that there is a tax benefit to being nonprofit, but said that was not the primary motive. "Bill Gates gives away billions. Are there tax advantages to that? Of course. But that is not what motivates him."
David Thorson, owner of Thorson Insurance Services of Agoura Hills and a member of the Prime Foundation board, said the nonprofit status will make Prime's business practices more transparent. For example, any management contract that the nonprofit hospital signs with for-profit Prime will be subject to the attorney general's review, as will salaries and fees charged by the nonprofit hospital.
"Now that we are a nonprofit, we'll be that much more transparent," Thorson said. "The attorney general will have to sign off on everything we do."
'Are they shifting the liability'?
This latest move follows mounting scrutiny of Prime and its business practices. Investigative reporting organization California Watch has conducted extensive investigations of Prime and reported that the hospital system now is under investigation by the FBI and others for allegedly employing fraudulent billing practices, such as charging Medicare for inappropriate hospitalizations and diseases that patients don't have.
The company also has been taken to task for its practice of cancelling insurance contracts and charging top dollar for the emergency room admissions of patients who have health insurance that Prime does not accept.
Prime has denied the existence of any probes or wrongdoing and has accused California Watch and the Service Employees International Union - United Healthcare Workers West of orchestrating a campaign to discredit it.
The union, which is in a protracted contract dispute with Prime, has been openly critical of the hospital system. Now, the group is raising questions about whether Prime might be donating hospitals to its Foundation as a self-protective measure.
Adam Weisberg, a researcher for the union with a background in health care data analysis, said he wonders whether Prime may be transferring ownership of the hospitals to the nonprofit foundation to shield the for-profit company and its owners from potential liability for alleged misdeeds.
"This is a huge transfer of ownership," Weisberg said. "What I want to know is who has the civil liability? Are they shifting the liability for the potential overbilling and excessive hospitalizations to the nonprofit so they don't flow to Prime and its leadership?"
Prime executives did not respond to Weisberg's questions.

Outside observers say it's unlikely that the reported investigations are behind the conversions to nonprofit status.
"If it turns out that there is a case of negligence or top-down outright fraud, the organization as a whole would still be liable for any fines and penalties," said Dylan H. Roby, director of the Health Economics and Evaluation Research Program at UCLA Center for Health Policy Research. "They will still pursue charges against Prem Reddy if it turns out that he has approved those practices."
Thorson, the Foundation board member, said that as an independent member of the Prime board, "I have no reason to believe that this has anything to do with shielding anyone from anything. That would be a huge red flag for me. I would be there at the board meeting saying we can't do that."
Thorson said Prime Chairman, Dr. Reddy, has not personally benefitted from the change in status. In fact, he says, the move has been personally costly to Dr. Reddy. Prime took what were troubled hospitals, invested in their turnaround and donated them debt-free to the nonprofit foundation, Thorson said.
Prime said Sherman Oaks had an annual debt service of $8 to $10 million when Prime purchased the hospital in 2006. That debt has been paid off, saving the state $17 million on bonds it had guaranteed to previous owners, Prime officials said.
"(Dr. Reddy) has proven that he can serve the community better," Thorson said. "He's putting in additional capital, expanding the ER (emergency room), adding state-of-the-art equipment to make this work better for the community."
Prime's critics counter that the company's practice of taking in patients primarily through the emergency room results in over-inflated bills to insurance companies such as Kaiser Permanente and Heritage Provider Network, whose patients were admitted through Prime hospital emergency rooms and kept in the hospital for a period beyond what was medically necessary. Kaiser has sued Prime for these practices.
Loose guidelines
In exchange for their tax exemption, nonprofit hospitals are required by law to perform a community or charitable benefit. Most nonprofit hospitals fulfill this requirement through charity or uncompensated care or by offering some philanthropic effort.
By law, nonprofits are required to file what's called a community benefit plan with the Office of Statewide Health Planning and Development (OSHPD).
But according to the agency, Prime has not filed a community benefit plan for Sherman Oaks and Encino hospitals. Encino hospital has been a nonprofit hospital since it was donated to the Prime Foundation in December 2009.
Hospitals have 150 days after their first full fiscal year as a nonprofit to file a three-year community benefit plan, said Ann Drumm, assistant director, legislative and public affairs for OSHPD.
Under those criteria, Encino Hospital should have filed its plan by June 2011. Sherman Oaks Hospital has until May 2013 to file its plan.
Barrera said the hospitals are in the process of filing their plans.
The idea behind a community benefit plan is to demonstrate investment in the community in exchange for tax benefits, said Dave O'Neill, senior program officer of the California Healthcare Foundation's Market and Policy Monitor program. "If you don't pay taxes you should be fulfilling your charitable account in exchange."
There are no hard and fast rules on the value of community benefits, OSHPD said.
There was an effort six years ago by Sen. Chuck Grassley, D-Iowa, to enact more stringent community benefit requirements for nonprofit hospitals, but the measure failed.
Today, the criticism that some nonprofit hospitals could do more in exchange for their tax exemption remains a topic of discussion in the industry.
"Nonprofit hospitals can increase their revenue by pushing down trivial amount of charity care in exchange for their tax-exempt status," said Rob Reich, co-director of the Stanford Center for Philanthropy and Civil Society. "In that respect, they have a huge competitive advantage."
Adds Hinkley: "It's essentially a huge federal grant."
Citing Prime's $5 million investment, Bills said Sherman Oaks has a significant agenda to improve the hospital in exchange for its new tax-exempt status.
He said the hospital also plans a health fair and donates classroom space at the hospital to community events.