ONLINE: NATIONAL POSITIONS OFFERS MOBILE MARKETING, SEO AND SOCIAL MEDIA SERVICES.
Valley Firm Serving Local, Global Clients
Monday, November 21, 2011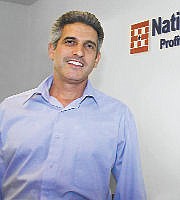 When his last employer up and moved to Florida in 2004, Bernard May decided to stick around rather than move his family from the Calabasas neighborhood they all loved.
With a background in technology and marketing, he decided to launch his own Internet advertising business...
Are you a subscriber? Sign In