EDUCATION: STUDENTS CAUTIOUS ABOUT ADDING DEBT IN UNCERTAIN ECONOMY.
Grad Schools See Dropping Enrollment for MBAs
Monday, November 7, 2011
Enrollment in the Valley's graduate business schools was down last year, in some cases significantly, making this one of the most challenging years for MBA programs in recent times.
Part-time programs suffered a worse set-back than full-time programs, area business school leaders said.
Behind the numbers are reduced support for MBA programs by corporations, and reluctance by students to accrue student loans in an uncertain economy that shows few signs of improvement.
"The combination has certainly softened the market for MBAs," said Linda Livingstone, dean of Pepperdine University's Graziadio School of Business and Management "It puts the onus on schools to help students understand the value of the degree and how even in this challenging climate, getting the MBA can be even more critical."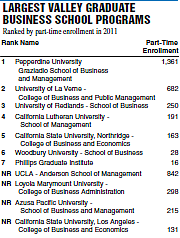 Enrollment in Pepperdine's part-time MBA program dropped 7 percent from last year to 1,361. Applications to the program declined 22 percent, said Livingstone. The school remained at the top of the Business Journal's list the Largest Valley Graduate Business School Programs.
Livingstone said the numbers reflect national trends. More than two-third of schools with MBA programs reported a decline in application volume for the 2011-12 academic year, a decline that led to lower enrollment. Only 28 percent saw an increase in application volume, according to the Graduate Management Admissions Council, a nonprofit organization that owns the Graduate Management Admission Test and tracks applications to business school.
Decline in applications may be challenging for business schools, but it's actually a good sign that the economy is improving, according to the GMAC's 2011 Survey Report. "As economic conditions begin to improve, potential applications are less likely to leave their jobs to attend a full-time program," the report states.
Pepperdine managed to keep its full-time MBA enrollment steady at about 377 students in 2011.
Other schools had a harder time doing so. University of Redlands School of Business, second on the list, experienced an 8 percent decline early in the recession, but enrollment stabilized at 638 full-time students this year, said Dean Stuart Noble-Goodman. "The crisis clearly had an impact," he said.
Woodbury University School of Business, fifth on the list, had the sharpest drop in both the full- and part-time MBA programs, with full-time enrollment off 25 percent to 179 and the part-time program down 48 percent to 28.
The university is experiencing two significant challenges, said Don St. Clair, vice president for enrollment and management. It is raising entrance standards to qualify for accreditation from the Association of Advance Collegiate Schools of Business (AACSB), the most prestigious accrediting body for graduate schools of business, while also fighting the national trend of declining MBA enrollment. Students entering the MBA program straight out of college will now have to pass the Graduate Management Admission Test.
While the decision to seek AACSB accreditation will help in the long run, "it does present certain challenges now," St. Clair said. "We are swimming upstream in a difficult economy and at the same time we're trying to not just survive but make ourselves better. We're committed to the change, but it doesn't make it easy."
California Lutheran University saw its part-time MBA enrollment drop 21 percent to 191, even as the full-time program held its own. The school ranked 4th on the list, the same spot it held a year ago.
California State University, Northridge also faced some challenges this year: a sharp increase in tuition last year, combined with a new fee — the graduate professional business fee — significantly raised the cost a CSUN MBA from under $8,000 to more than $18,000. Deborah Cours, director of graduate programs, said the school is still a bargain.
Business school leaders are responding to the challenge in a variety of ways. All are marketing more aggressively this year to recruit students, stepping up print and media advertising as well as their presence on social media. Many are also going overseas to recruit students.
Cal Lutheran has a recruiter scouring for candidates in China, Taiwan, India and now Saudi Arabia.
Across all programs, the number of foreign-born students at the school has increased by 20 percent this year to 330, according to the school.
"Without them, our program would definitely have suffered a bigger decline," said Veronica Guerrero, director of the MBA program. "They balance out the domestic population."
Schools are also adding specialized programs of study, which are perceived as more valuable in a declining economy than the more general MBA. CSUN, for example, has added master's of science degree in accountancy this fall, and with California adopting a 150-unit minimum to sit for the certified public accounting exam, the school is offering a combined 150-unit undergraduate and graduate program leading to the MS and MBA, said Cours.

Pepperdine recently added new certificate programs in social and ethical responsibility and a focused entrepreneurship program, both of which have proven popular, Livingstone said.
Schools are also getting more flexible and creative. Cal Lutheran now has a travel option that allows MBA students to go abroad for two to three weeks. The school also gives students the option to take classes face-to-face, or do a portion of a class online. Compressed weekend courses are another option.
University of Redlands, which has stayed clear of online programs because its students value the personal experience, is now giving students a hybrid option, said Noble-Goodman.
The school also offers a unique international study abroad option; students have the choice of spending an entire semester in Asia, India, Scandinavia, England or Costa Rica, and now Austria or Italy.
"It's certainly an exceptional experience for a business education," Noble-Goodman said. "The program is universally well liked."
---
Download the Largest Valley Graduate Business School Programs list (pdf)